Lionel Messi Vs Pele: The Legends Of International Football
Scotttfujita.com is an informative blog for readers. The products in the article contain affiliate marketing links. We may receive a small commission when you make purchases through our links. You do not need to pay any additional fees for us. See our full disclosures
here
Messi and Pele are two of the best players to have ever graced the game, and picking one over the other would appear to be a difficult task. Today, Scott Fujita has selected a few key features to analyze how Messi vs Pele stack up against one another.
Pele is one of the best players in history. Meanwhile, Lionel Messi, who won a seventh Ballon D'or, has superior agility and a diverse repertoire of skills. They are well-known for creating many hat trick records in world cups.
Let's dive right into the details!
Lionel Messi Vs Pele: Who Deserves The Title Of Football Legend?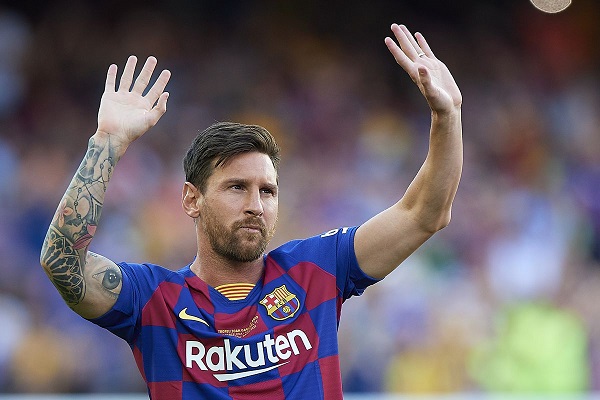 Messi
It's hard to tell who is the better player between these football talents. So, we compiled several key features about their plays to give you a better insight into Pele and Messi. 
View more: Who is the best soccer player in the world
Playing Position
Pele – Center Forward: 
The New York Cosmos former player was primarily a center-forward who can drop deep to play a more passive role or as a second striker occasionally.

The Brazilian's talent and uniqueness were marked by his flashy flair and ability to wrestle past the defenders.
Messi – Winger/Forward:
On the other hand, Messi scored points first as a striker before transitioning to a right-winger over time. 

He is a playmaker who prefers to control the game's pace with the ball in his hands and make storming runs down the sides, allowing him to cut in and score with his left foot.
Key Strengths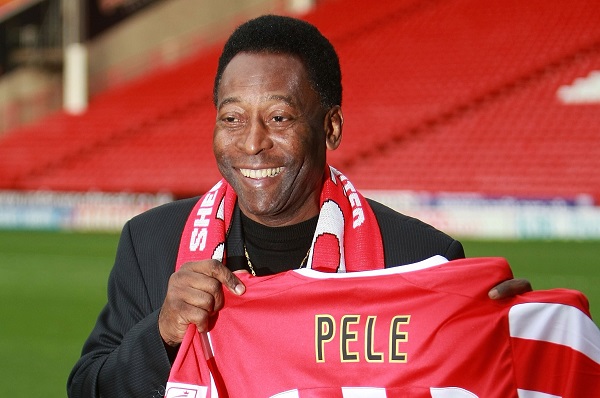 Pele
Pele – Clinical Finisher, Aerial Ability, Physicality, Weak Foot Ability
Pele grew up when there were no red or yellow cards, and attacks from behind were still deemed acceptable. When hits in football were as standard as MMA takedowns, he possessed a solid physical presence and could glide past opponents at ease.

He had many tricks in his sleeves and would use his legendary "feints" and his signature technique, the "dribble da vaca," to take on enemies in the monumental stadium. 

For week foot skill, Pele was one of the greatest. He was a prolific striker and a clinical finisher. He had no chinks in his shell and was a challenge for defenders to cope with because of his excellent heading skills and an unequaled desire for goals scored.

His incredible brilliance on the court, with his tendency to score stunning international goals, cemented his status as the best player of his generation. 
Messi – Dribbler, Agility, Acrobat, Finisher, Vision, Positioning
The small Argentine's low center of gravity, at 5′ 7″, allows him to squirm past opponents easily. He makes up for his lack of physical strength with superior agility and a diverse repertoire of skills.

Those who have paid close attention to Messi know that curving the ball past goalkeepers is a breeze for this South American player. That's why he and Cristiano Ronaldo are Tweedledum and Tweedledee.

That, along with his natural set-piece brilliance (Messi has one of the most effective direct free-kick conversion rates in Europe's top five leagues.) He is also a fantastic talent for outsmarting opponents with blindside runs, making him a better all-around creative genius. 

It does not take a scientist to figure out why he's universally considered as one of the top professionals to have ever played the beautiful game, given his quick agility, scorching pace, and tactical knowledge to drag defenders out of their positions. 

Even if this player who used to play for Catalan club, isn't a true center-forward, his most goals (average of 5 per 90 minutes in La Liga this season) should be enough to make even the most potent attackers envious.

Even the top players in the game, as they say, have their flaws, and Messi is no exception. 

That means Messi isn't the greatest when it comes to scoring goals with his weaker right foot, and he's also lacking in the aerial department, averaging just 0.3 aerial duels per game in La Liga this season.

Lionel Messi seemed to need more games to beat the single club goal-scoring record held by the Brazilian superstar, Pele, but he achieved so in less seasons. You can rely on this related video to enjoy this moment.
https://www.youtube.com/watch?v=0hM08ZIuGco
Pele shared his respect for Messi who has exhibited the same passion and dedication to Santos as he did for over two decades. "When your heart overflows with love, it is difficult to change your path. I know what it's like to love wearing the same shirt every day. I know that there is nothing better than the place we feel at home." he said.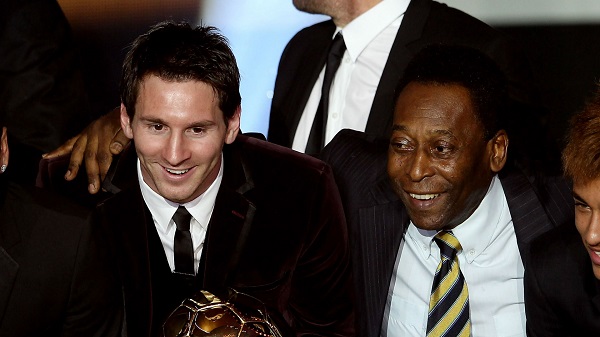 They Are Excellent Football Talents.
Lionel Messi Vs Pele Stats
Let's look at these international level Pele vs Messi stats to see how great they are!
Related: Pele Vs Maradona Or Messi Vs Ronaldo
Messi
Pele
Overall

Games

153

90

Starts

139

87

Sub appearances

14

3

Goals

79

77

Penalty goals

17

3

Minutes per goal

160

92

Minutes per non-penalty goal

204

95

Friendlies

Games

47

64

Goals

34

51

Penalty goals

7

3

Percentage of total goals

43%

66%

Minutes per goal

106

93

Minutes per non-penalty goal

134

99

World Cup qualifiers

Games

53

6

Goals

26

6

Penalty goals

7

0

Percentage of total goals

33%

8%

Minutes per goal

173

86

Minutes per non-penalty goal

237

86

Copa America at Buenos Aires 

Games

34

6

Goals

13

8

Penalty goals

3

0

Percentage of total goals

16%

10%

Minutes per goal

224

66

Minutes per non-penalty goal

291

66

World Cup

Games

19

14

Goals

6

12

Penalty goals

0

0

Percentage of total goals

8%

16%

Minutes per goal

271

105

Minutes per non-penalty goal

271

105
Final Thoughts
Hopefully, this comparison of Messi vs Pele will satisfy you. If you have any questions about these soccer or football legends, please feel free to contact us at Scott Fujita!