Messi Vs Ronaldo Stats: Who is the Best in football?
Scotttfujita.com is an informative blog for readers. The products in the article contain affiliate marketing links. We may receive a small commission when you make purchases through our links. You do not need to pay any additional fees for us. See our full disclosures
here
As a football fan, indeed, the names of Cristiano Ronaldo and Lionel Messi are no longer strange to us. Both are great monuments with outstanding personal marks and achievements.
Many controversies were surrounding Messi vs Ronaldo who is better? To find the answer, we need to dig into the parameters and achievements of each player.
Via this article, Scott Fujita will help you find the most satisfactory answer. 
Let's read on to discover!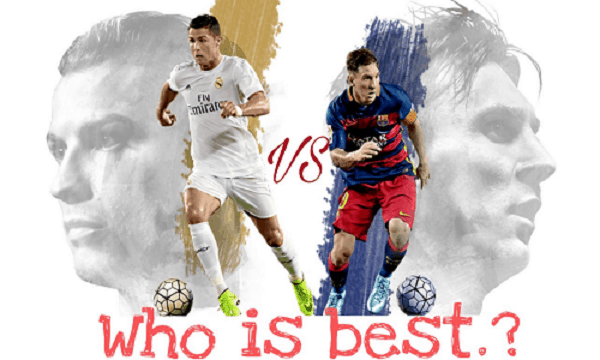 Messi and Ronaldo comparison 
Comparison between Messi Vs. Ronaldo Stats 
There is no more intuitive and obvious form of comparison than using statistics. To make it more straightforward for you guys to follow, we have compiled each player's achievements in the form of a table below.
View more: Best soccer players of all time
If you want to get a visual look at the live image of the confrontation between the two stars, you can check out this video. 
Cristiano Ronaldo Vs Messi Stats: All-Time Club Goals 
This table shows us the Messi vs Ronaldo trophies and stats of two players playing for their clubs (excluding club friendlies).
Related: Messi Vs Pele Or Pele Vs Maradona
Lionel Messi
Cristiano Ronaldo

779 apps

268 assists 

672 goals

676 goals

194 assists

896 apps

95 minutes per goal

108 minutes per goal

68 minutes per goal contributions

84 minutes per goal contributions
The Manchester United star's numbers seem to be slightly above his rivals when it comes to club goals. However, you should not ignore that Ronaldo has played two seasons ahead of the new PSG star.
The current strength of Cristiano Ronaldo is the total number of goals. After the opening double for Manchester United, CR7's achievements increased again. For Lionel Messi, he has the advantage of scoring.
The difference between the Messi vs Ronaldo goals is extremely impressive, but the ability of Messi's goal is somewhat more stable. The former Real Madrid star has not been able to surpass the 30-goal mark in recent seasons.
Cristiano Ronaldo Vs. Lionel Messi: All-Time Champions League
Ronaldo vs Messi: For the Champions League stats, who has scored more goals? 
Lionel Messi
Cristiano Ronaldo

149 apps

35 assists 

120 goals

135 goals

41 assists

180 apps

103 minutes per goal

115 minutes per goal

80 minutes per goal contributions

89 minutes per goal contributions
No one can underestimate CR7's scoring ability in the Champions League. He shines at whatever club he joins, be it Manchester United or Real Madrid.
Lionel Messi's goal rate is remarkable. He will have the ability to go further if he keeps his form in the future.
Cristiano Ronaldo Vs Lionel Messi: All-Time Domestic Cups
This table will show Messi and Ronaldo's goals in their domestic cups. Those competitions include Copa del Rey, Coppa Italia, FA Cup, EFL Cup.
Lionel Messi
Cristiano Ronaldo

80 apps

33 assists 

56 goals

45 goals

10 assists

81 apps

116 minutes per goal

145 minutes per goal

73 minutes per goal contributions

118 minutes per goal contributions
Cristiano Ronaldo Vs. Lionel Messi: All-Time Domestic Super Cups
This table will show Messi vs Ronaldo all-time stats in their domestic super cups. Those competitions include Spanish Super Cup, Supercoppa Italiana, FA Community Shield.
Lionel Messi
Cristiano Ronaldo

20 apps

5 assists 

14 goals

6 goals

0 assists

11 apps

119 minutes per goal

144 minutes per goal

88 minutes per goal contributions

144 minutes per goal contributions
Cristiano Ronaldo Vs Lionel Messi: International Stats
Messi vs Ronaldo stats: When stepping out into the world arena, who has more goals? Messi or Ronaldo?
| | | |
| --- | --- | --- |
| Lionel Messi | Stat | Cristiano Ronaldo |
| 151 | International caps | 180 |
| 76 | International goals | 111 |
| 0.5 | Goals per game | 0.6 |
Cristiano Ronaldo Vs Lionel Messi: Career Titles
When comparing Messi vs. Ronaldo's career goals, we cannot ignore the trophies they have achieved. 
| | | |
| --- | --- | --- |
| Lionel Messi | Stat | Cristiano Ronaldo |
| 0 | World Cup | 0 |
| 1 | European Championship / Copa America | 1 |
| 1 | Olympics | 0 |
| 10 | League titles | 7 |
| 4 | Champions League Cup | 5 |
| 3 | Club World Cup | 4 |
| 7 | National Cups | 4 |
CR7 Vs. Messi Games Comparison: Titles And Individual Awards
We will take a look at the individual achievements and trophies of two legendary players in this section.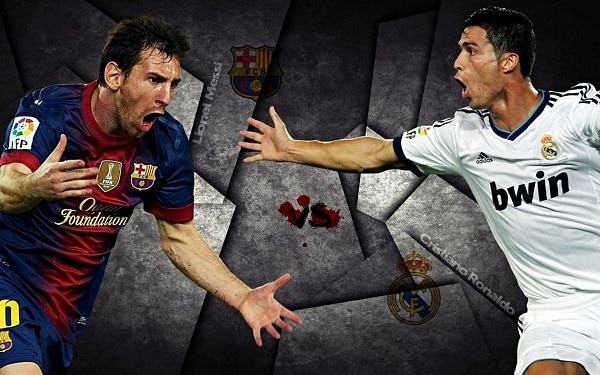 Both Messi and Ronaldo are successful soccer players
Titles
With ten La Liga titles, Messi's position in this tournament is excellent. For Ronaldo, his championship is stopping at seven league titles. Even so, Ronaldo won them in three different countries (England, Spain, Italy). Many people think that makes his achievements stand out.
In the international arena, Cristiano Ronaldo also shows himself to be more outstanding. CR7 has won the title of European Championship and the UEFA Nations League.
In the UEFA Super Cup, Ronaldo has achieved the same achievement as Messi, although his participations are only half that of the Argentine star.
Lionel Messi's achievements in the international arena are not very successful. He has failed four times in a row in Copa America, but luck smiled on Messi in 2023 with his first championship. 
In addition, Messi is the owner of an Olympic gold medal.
Individual Awards
No player in the world has owned more Ballon d'Or trophies than Cristiano Ronaldo and Lionel Messi. So far, Messi has pocketed six Ballon d'Or titles, one more than the Portuguese forward.
Lionel Messi has received six titles in the European Golden Shoe, with eight being the tournament's top scorer. CR7's European Golden Shoe number is four.
He has also been the leading scorer five times in three different tournaments (once in Premier League and Serie A, three in La Liga). Quite impressive.
However, there is one aspect where Ronaldo is superior to Messi. He won the Puskas award with two nominations. Messi, meanwhile, has yet to win the title despite his seven nominations.
Given Messi's drive to get his Argentina country to the World Cup final in 2014, he deserves to be the owner of the Golden Ball. Unfortunately, both players have not once stood on this international level tournament podium as a national team until now.
Frequently Asked Questions
This section will help you answer some more questions about Lionel Messi and Cristiano Ronaldo's stats.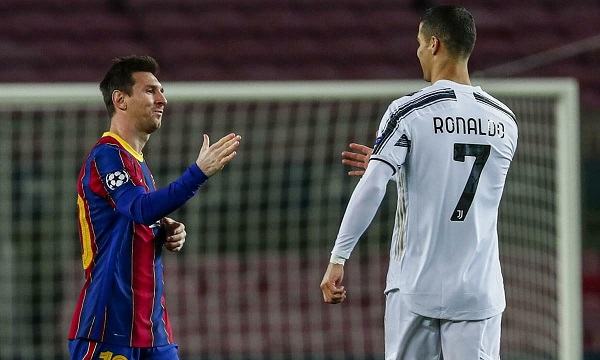 FAQs about Messi and Ronaldo
1. Ronaldo vs Messi, who has more hat tricks?
Both players are excellent at creating hat tricks in every game. In terms of numbers alone, the winner here is Ronaldo, with a total of 57 hat tricks. As for Messi, he has scored 55 hat tricks.
However, Messi has the advantage in terms of frequency. Every 16.9 games, Messi makes a hat trick. That number is 18.9 games for Ronaldo.
2. Ronaldo vs. Messi, who kicks the penalty better?
When it comes to penalties, Ronaldo's stats are higher than Messi, but not as big as we often think.
Excluding the penalty shootout, Messi has scored 100 penalties (with 29 missed). That number for Ronaldo is 139 penalties (with 28 missed). Indeed victory belongs to Ronaldo in this battle.
His penalty conversion rate is also higher than Messi's rate, namely 83% (versus 78%).
3. What Is Messi Net Worth?
Messi's net worth is believed to be around $600 million. Understandably, much of that has been increased during his long and distinguished career at FC Barcelona. After he moved to PSG, that level of value remained unchanged.
Meanwhile, Ronaldo has a net worth as of October 2023 of $500 million.
Final Thoughts
Who is better Ronaldo or Messi 2023?
Both Cristiano Ronaldo and Lionel Messi are the defining figures of modern football. They have made contributions and achievements with ultimate glory in football.
It will be difficult for us to make a judgment about who will win. Scott Fujita is sure that each reader has chosen a champion in their heart.
Let's observe and follow the careers of these two stars. Hopefully, in the future, we can see them win the most prestigious World Cup.