Baseball Cards Worth Money: Most Valuable Baseball Cards List
Scotttfujita.com is an informative blog for readers. The products in the article contain affiliate marketing links. We may receive a small commission when you make purchases through our links. You do not need to pay any additional fees for us. See our full disclosures
here
Baseball cards are a memory for all those who love baseball. Do you remember the excitement a child feels when he finds his favorite card for the first time?
The original purpose of baseball cards was to promote cigarette packs. Gradually, it became popular, and many people considered collecting it as a hobby. Are baseball cards worth money? If you still have Hall of Fame or rookie cards, find them now. Their value can be up to six or seven cash figures.
This article by Scott Fujita will help you better understand why these sports cards are valuable and point out the most valuable baseball card.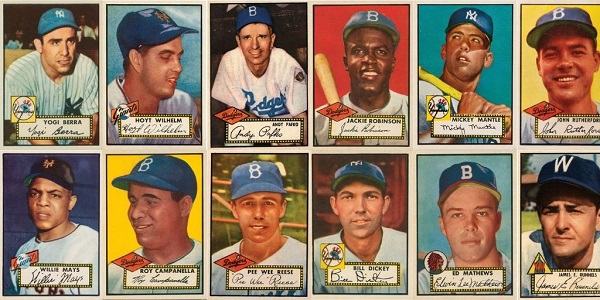 Baseball cards may offer a massive fortune for their owners.
Top 10 Baseball Cards Worth Money Of All Time 
Many people say that collecting baseball cards is purely for entertainment. They were wrong. On the sports card market, you can find desirable cards at sky-high prices.
Mass printing in the 80s to 90s killed off the value of most cards made after 1980. However, the value of vintage pre and postwar cards can surprise you.
What baseball cards are worth money now? Let's take a look at the list of the most expensive baseball cards below. Maybe you had such a valuable card in your attic collection.
View more: Oldest baseball stadium
1. T206 White Border Honus Wagner
Price: $6,606,296 (SGC 3 Example – August 2022).

Year: 1909-11.

Dimensions: 1-7/16″ x 2-5/8″.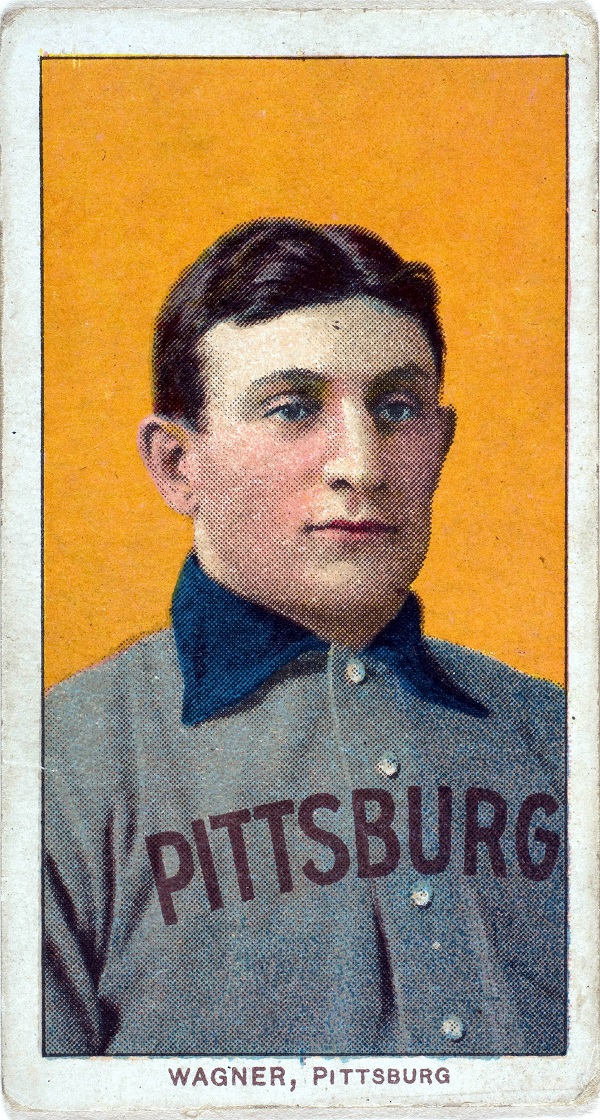 The most expensive baseball card belongs to T206 Honus Wagner. 
The T206 Honus Wagner is the Holy Grail in the baseball card world with a limited run of 50. That rare release has increased the value of this card hundreds of times.
It was the star of the Pittsburgh Pirates – Honus Wagner – that made the card top the list of most valuable baseball cards. He banned American Tobacco Company from continuing to produce the card.
Someone said Wagner didn't want children to have to buy cigarettes to get his card. Some suggested that he tried to claim more royalties.
The value of the T206 Honus Wagner baseball card is very high, so you have to beware of counterfeits. To be sure, it's best to refer to the PSA (Professional Sports Authenticator) score.
Level cards "1" indicate poor status, while "10" is the highest level (Gem Mint). The better the card condition, the higher the value.
2. Topps #311 Mickey Mantle
Price: $5,200,000 (PSA 9 Example – January 2022).

Year: 1952.

Dimensions: 2-5/8″ x 3-3/4″.
Topps #311 Mickey Mantle. 
Card #311 Mickey Mantle is one of the Topps baseball cards with the highest value on the market. It is also an indicator of the price movement of trading cards.
Topps entered the sports cards market in 1952, so the value of this set of cards is very high. Regular cards also cost $1000 if it's in mint condition. 
Given the high sequence number, it is easy to see that few Mickey Mantle rookie cards have been produced.
The main reason why #311 Mickey Mantle became one of the rarest cards because Sy Berger – father of modern baseball cards – dumped most of the cards into the ocean to expand the space. There are now only a handful of these cards on the market.
View more: How long is a baseball game
3. M101-5 and M101-4 Sporting News Babe Ruth Rookie Card
Price: $1,350,000 (PSA 8 NM-MT).

Year: 1916.

Dimensions: 1-5/8″ x 3″.
M101-5 Sporting News Babe Ruth Rookie Card .
The next card on the list of the most expensive baseball cards in baseball history is 1916 Babe Ruth.
It's not surprising that a legendary rookie card has such a high price tag. This card shows young Ruth in his Boston Red Sox uniform before competing in the name of the New York Yankees.
4. T206 Ty Cobb Tobacco (Ty Cobb Back)
Price: $1,100,000 (PSA 4.5 VG-EX+).

Year: 1909-11.

Dimensions: 1-7/16″ x 2-5/8″.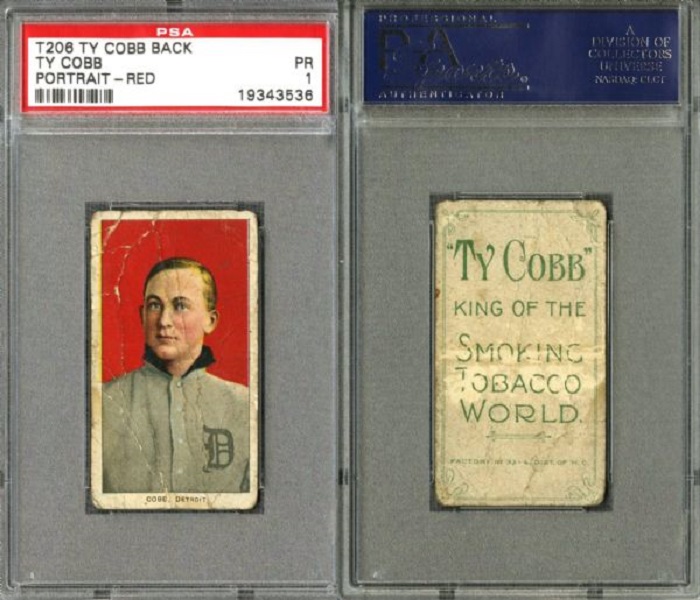 T206 Ty Cobb Tobacco. 
One of the reasons the T206 set became so popular is the amount of advertising on its back. There are a total of 16 different types of backs. When combined between the front and back, we have a combination of 5,500 models.
Currently, less than 22 extant cards have been found. The T206 Ty Cobb card with a PSA card graded only 4.5 has an estimated value of $ 1 million.
5. Baltimore News #9 Babe Ruth Pre Rookie Card
Price: $925,000 (PSA 4 VG-EX).

Year: 1914.

Dimensions: 4-1/2″ x 6″.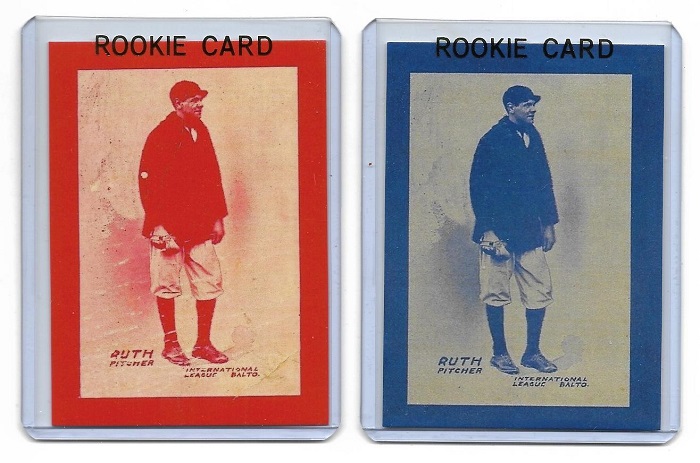 Baltimore News Babe Ruth Pre Rookie Card with yellow background. 
Star Babe Ruth's "pre rookie" card has an astronomical price tag with only ten copies in existence. These baseball cards that are worth money include two versions with a blue border and a red border.
In early 1914, Ruth signed a contract with Jack Dunn of the Baltimore Orioles minor league. It was the beginning of his career before moving to the Red Sox.
Even though these cards aren't high grade, they still have a very high estimated price tag, up to six figures.
6. T206 White Border Eddie Plank
Price: $850,000 (PSA 8 NM-MT).

Year: 1909-11.

Dimensions: 1-7/16″ x 2-5/8″.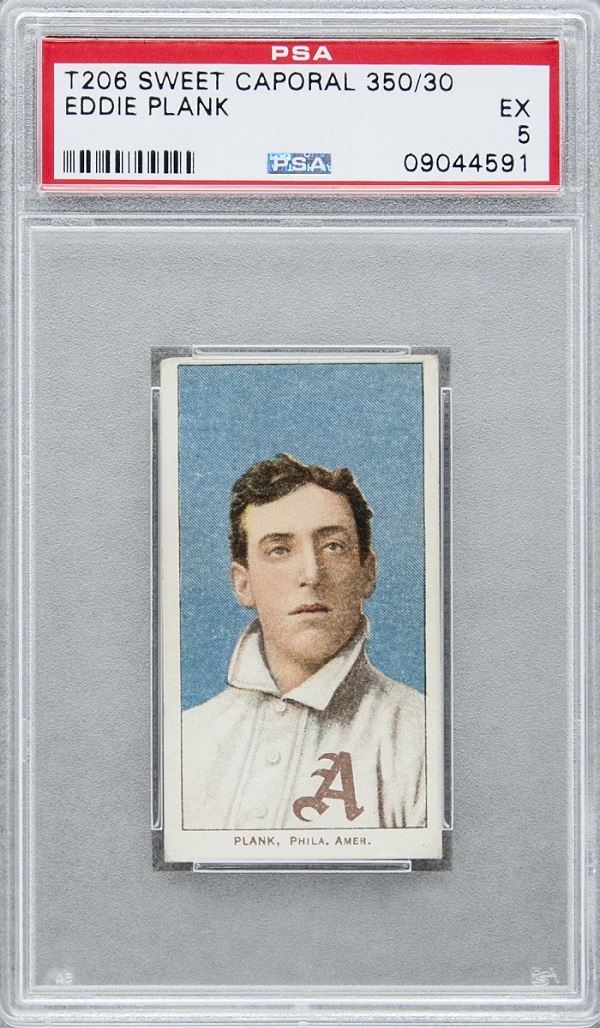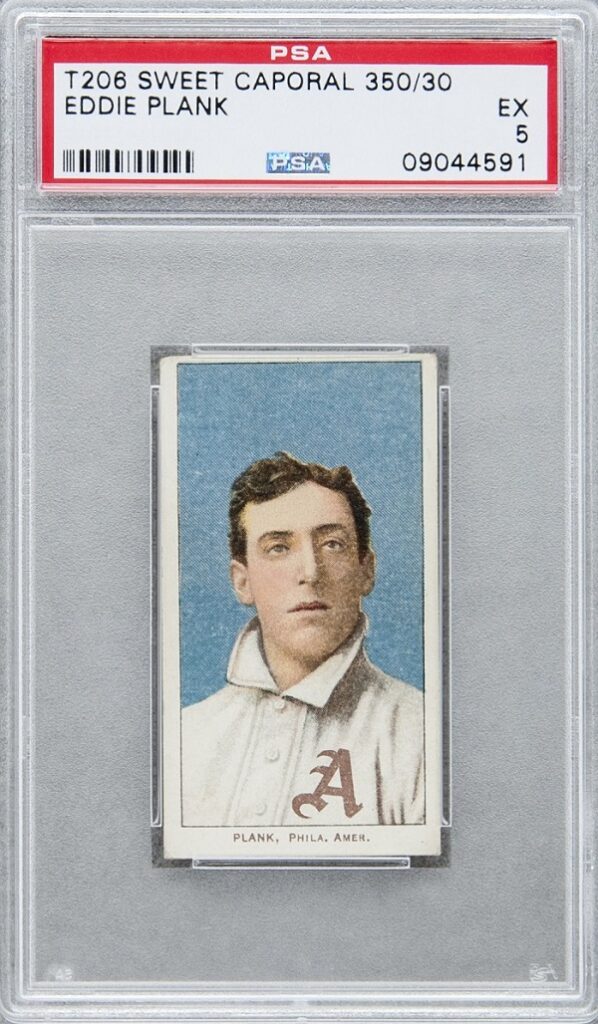 T206 White Border Eddie Plank. 
In the T206 deck, the Eddie Plank card is the next face that receives attention. It is also the only one of the most dominant pitchers to enter the Hall of Fame.
Legend says that this card's rarity stems from poor quality prints that led to mass destruction. You can easily spot this by its centered quality.
7. Bowman #253 Mickey Mantle Rookie Card
Price: $700,000 (PSA 9 Mint).

Year: 1951.

Dimensions: 2-1/16″ x 3-1/8″.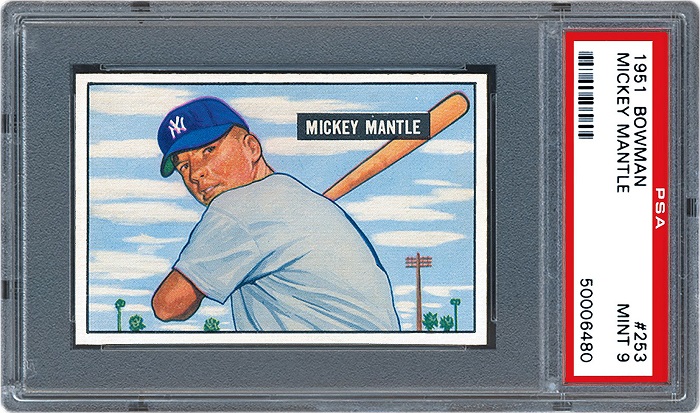 Bowman #253 Mickey Mantle Rookie Card. 
Mickey Mantle is on this list again after his 1952 Topps cards.
Many collectors are excited about this rookie card, thanks to its beautiful graphics. The image of Mantle ready with a bat in his hand is very enthusiastic. 
Unfortunately, the quality of these cards is not so impressive.
Owning this rookie card with a high number of PSA will bring you a large amount of money.
8. T206 White Border Sherry Magie Error Card
Price: $660,000 (PSA 8 NM-MT).

Year: 1909-11.

Dimensions: 1-7/16″ x 2-5/8″.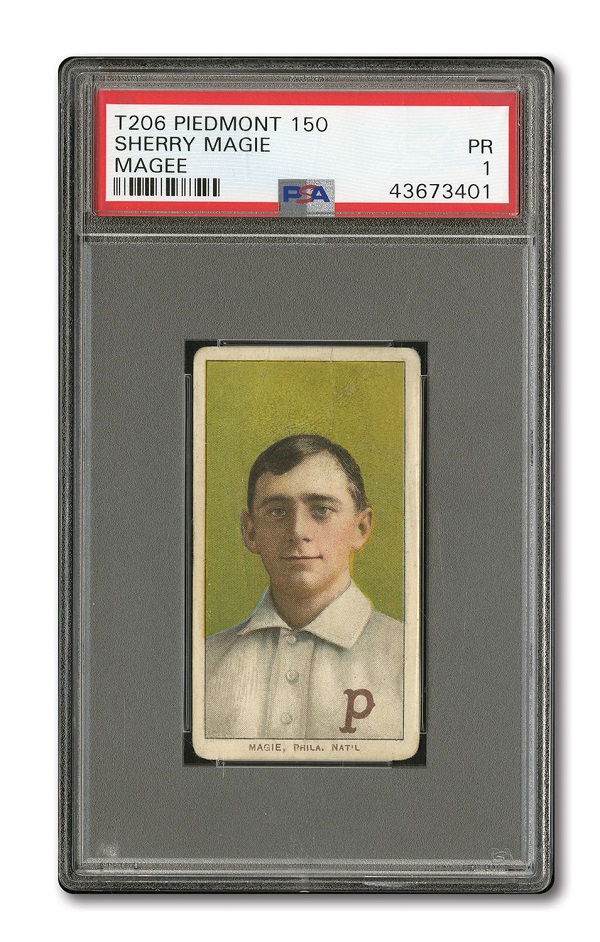 T206 White Border Sherry Magie Error Card. 
Sometimes during the production process, there will be some printing errors appearing on baseball cards. Cards issued with that mistake are called "error cards."
Usually, the manufacturer will recall them very quickly for correction. Therefore, there are not too many versions of error cards on the market. Collectors are willing to pay high prices for this card to get both pre-and post-edited versions.
The T206 Sherry Magnesium error card is a typical example. If you know this player well, you will realize that his correct last name is Magee.
9. American Caramel E90-1 Joe Jackson Rookie Card
Price: $600,000 (PSA 8 NM-MT).

Year: 1909-11.

Dimensions: 1-1/2″ x 2-3/4″.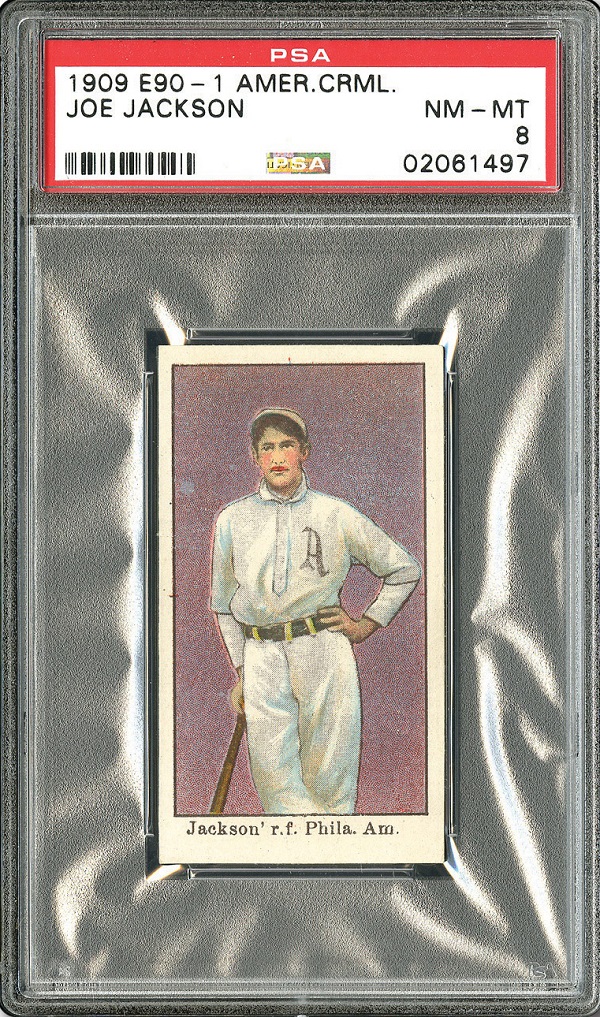 American Caramel E90-1 Joe Jackson Rookie Card. 
It's a pity in Joe Jackson's entire career that he couldn't make it to the 1919 World Series at its peak. Allegations of participating in the Black Sox Scandal almost ruined this player.
That event also made this Joe Jackson rookie card rare with limited numbers.
10. T210 Old Mill Joe Jackson
Price: $600,000 (PSA 3.5 VG+).

Year: 1910.

Dimensions: 1-1/2″ x 2-5/8″.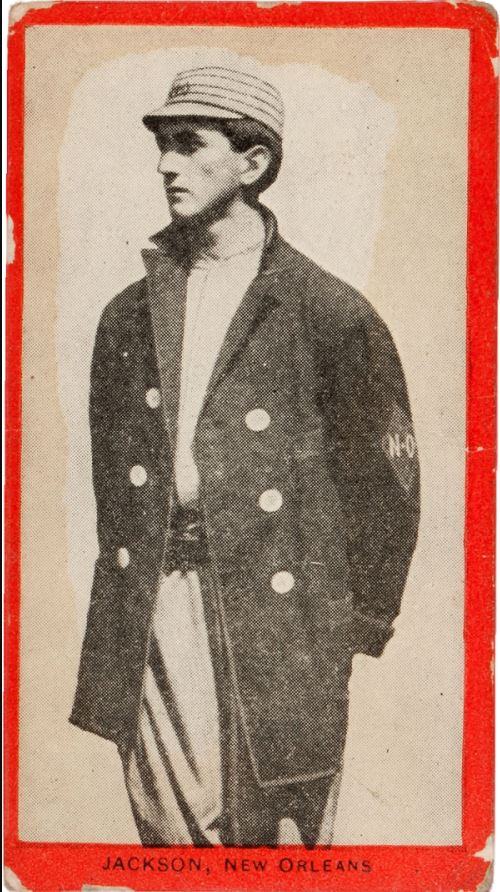 T210 Old Mill Joe Jackson. 
The T210 Old Mill deck is one of the most varied. It includes a lot of minor players that you may not have heard the name of before.
Joe Jackson is one of the renowned names. He was playing against the Cleveland Naps after the Philadelphia Athletics made an exchange in 1910. That decision was one of the worst in baseball history.
How To Tell The Value Of A Baseball Card?
What are baseball cards worth today? You can make a lot of money with vintage cards. However, it needs to meet some of the following card features and conditions.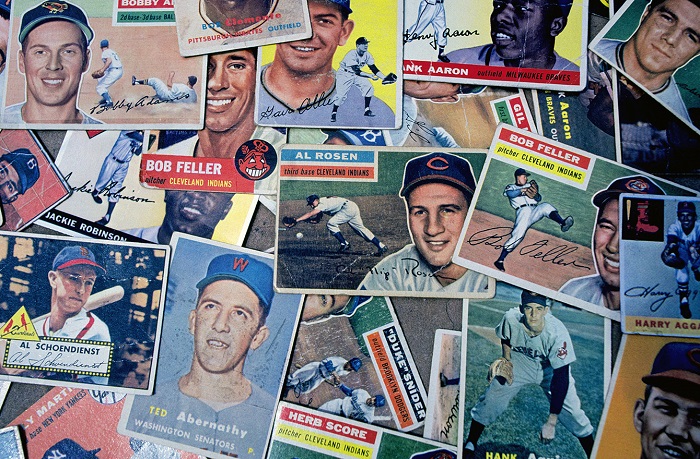 How can you find the valuable baseball cards. 
Players
National Baseball Hall of Fames cards or famous players who have won awards (Gold Glove Awards, Triple Crown or American League winner) are often highly valued. People sometimes still hunt for the usual player cards for emotional reasons.
One of the other valuable player cards is the rookie card. Fans always want to look back at their star as a beginner. 
My favorite rookie card is the Nolan Ryan rookie card. Some famous baseball stars like Ken Griffey Jr, Pete Rose, Derek Jeter, Cal Ripken Jr, or Barry Bonds can increase the baseball cards value.
Grade
You can consult the PSA, SGC, and Beckett grading systems to learn about the value and rarity of the cards you want to sell. Researching the PSA census to see how many tiers for any particular card exist will give you an idea of how rare a card is.
A card's condition is one of the most important factors determining its value, regardless of rarity. Often people will consider the corners, edges, centers, or surfaces of the card to make a judgment. 
Most high-value cards have a centered backside, sharp edges, and no print defects. If you have any questions about how organizations score valuable baseball cards, check out this video.
Scarcity
Baseball cards produced before 1980 are of great value because of their limited availability.
"High number" iconic cards printed at the end of the baseball season are more commonly purchased than regular cards. 
"Short prints" are printed cards in a shorter time for no reason, so people can also appreciate these cards.
In addition, many factors affect the value of baseball cards, such as year of manufacture, versions, or set sequence. You can find the first card in a set when looking for the top left corner.
Final Thoughts
Are baseball cards worth anything? Which baseball cards are worth money? Hope this article has helped you answer these questions.
The valuable baseball cards are not only collectible, but they also take us back to a beautiful memory lane. There's nothing better than opening unopened packs and finding images of iconic players.
Take good care of these baseball cards. They are like a potential lottery ticket. Maybe you will win a large amount of money in the future?