Who Are Ya Soccer? A Comprehensive Guide About The Popular Sport Game
Scotttfujita.com is an informative blog for readers. The products in the article contain affiliate marketing links. We may receive a small commission when you make purchases through our links. You do not need to pay any additional fees for us. See our full disclosures
here
Puzzle games always have a certain attraction to each of us. The journey of discovery and finding the answer always excites you.
Since the word puzzle game became popular, many versions of it have been published. Among them, the Who Are Ya soccer wordle is a game focused on soccer players.
If you are a football fan and want to test your knowledge of this game, let Scott Fujita learn more about it here.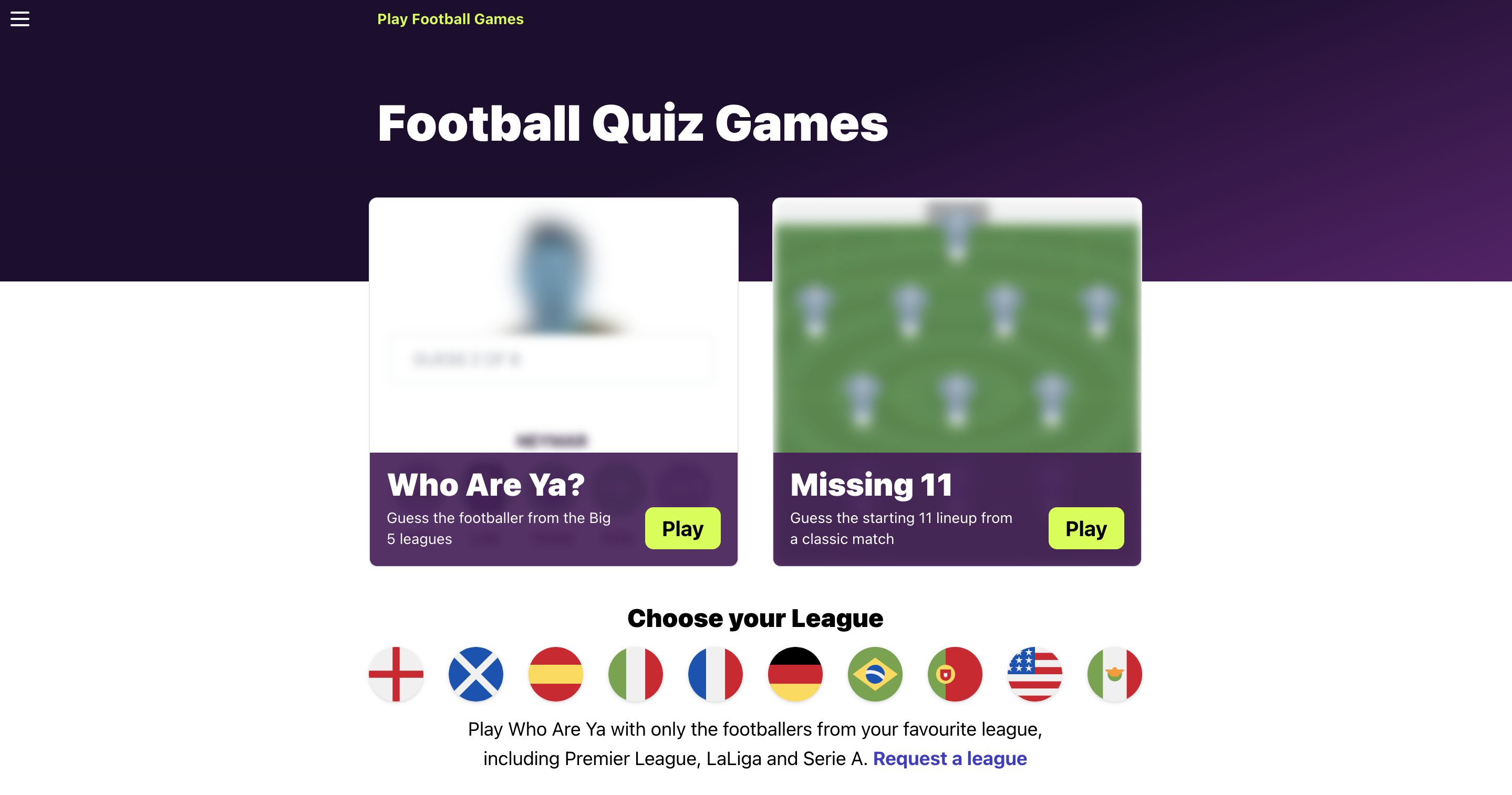 "Who Are Ya?" user interface
What Is "Who Are Ya" Soccer? 
"Who Are Ya?" is a game with gameplay similar to Wordle that challenges football fans to guess players based on their blurred images.
"Who Are Ya?" player list is very diverse when the game claims to have prepared 30,000 registered players
They can be anyone from any of the teams participating in Europe's top five leagues – Ligue 1, Premier League, La Liga, Bundesliga, and Serie A.
The game sounds very easy. However, you will only get a discolored and blurred player image.
Through much guesswork, the picture will become clearer and clearer. Besides, entering predictions also gives you more clues related to that player, such as their age, nationality, league, club, and playing position.
With these suggestions, you can base that on to form other conjectures. The more hints, the easier it will be to speculate.
How To Play 
When you first log into the game, you will need to select the soccer league you want to speculate on. "Who Are Ya?" There are many international tournaments to cater to the preferences of the players.
Then the screen will switch to two different game modes. With Hide Photo, you will have to guess the player without the picture. In contrast, the Show Photo mode gives the player a pixelated image.
Once you have completed the game mode selection, the web page will appear with the puzzle. You can start guessing the player's name as a reference for the next clues.
The information provided such as the player's position, age, nationality, number or team will be important for you to get the correct answer. If you find the right clue, a green circle will appear.
All six of these attributes are equally important. So, try to guess all correctly to find the answer faster.
The more clues you open, the clearer the picture will become. As a result, players can guess faster if they choose the "Show Photo" mode.
Each day, you will have eight attempts to guess the clues and find the answer. This game not only challenges your knowledge but is also extremely suitable for playing with friends.
Another game with similar mechanics to "Who Are Ya?" is "Footle". You can also try it to see which game suits you better.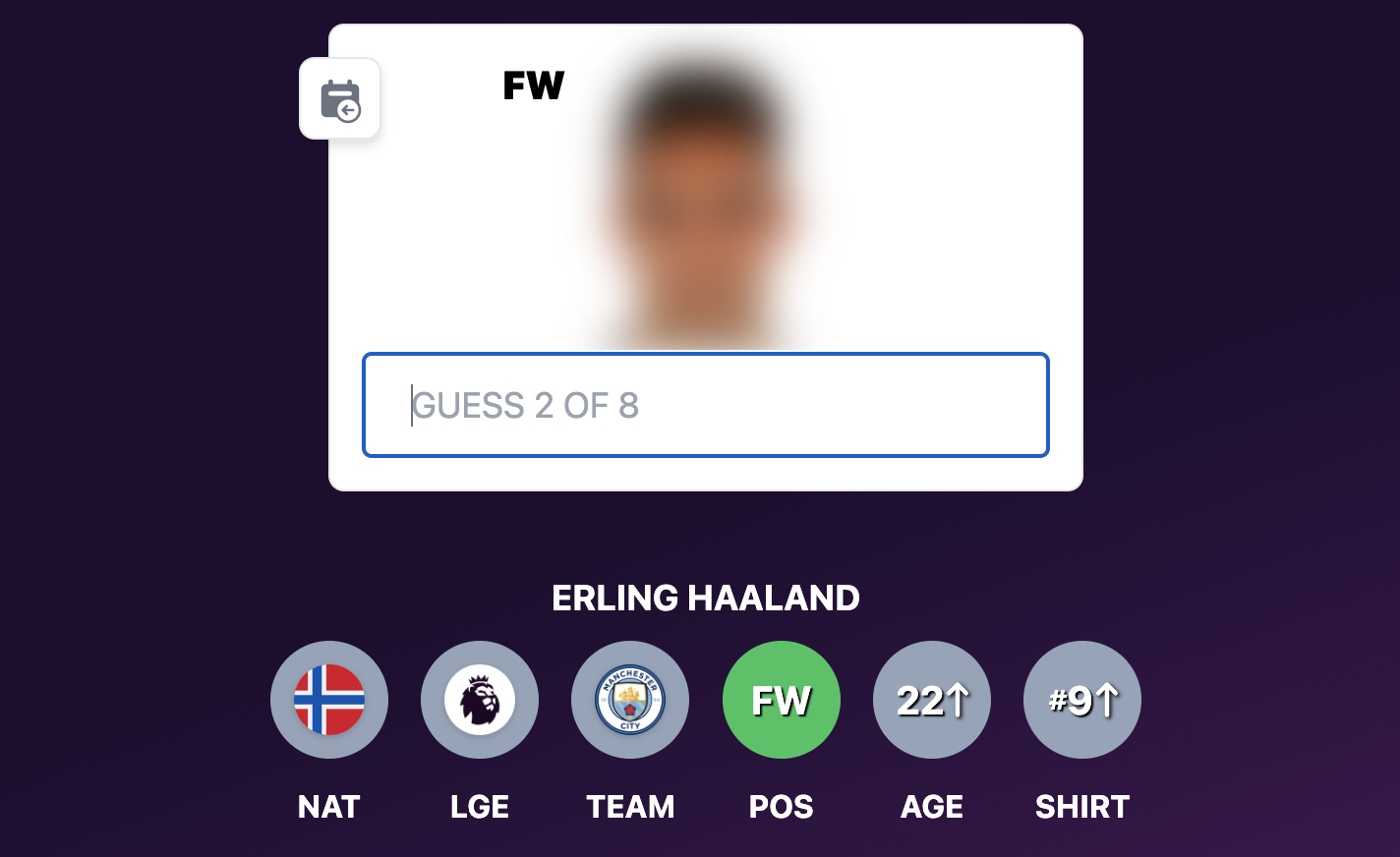 How to play 
The Rules 
"Who Are Ya?" is a fairly simple game for hard-core football fans. Basically, it has uncomplicated rules of play.
Each day, you will receive eight player guesses that the site offers. The first image will be black and white and extremely blurry. Through each guess, the picture will be clearer.
You can predict a player's name if it meets the following conditions:
The player is participating in one of Europe's top five leagues: Serie A, Premier League, La Liga, Bundesliga, and Ligue 1.

The minimum number of appearances a player has made at a club in any of the aforementioned competitions is one.

When you start typing a player's name, make sure it appears in the list of suggestions.

Players who have joined the club but have never played will not appear in the suggested list. Matches that do not fall within the five leagues mentioned above will be ineligible.
Like Wordle, you'll have to narrow down your guess by looking for hints. Each time you correctly identify a piece of information, a green circle will appear.
Game Play Explained 
The first look of "Who Are Ya?" is the name of the game and the sequence number (#) to mark the number of puzzles for the day.
The choice of player image is your freedom. If you are a familiar player and like a challenge, the "Hide Photo" mode will be more suitable for you.
Conversely, when you select "Show Photo," a blurry and discolored player image will appear. Right below is a box where you can start filling in your speculations.
Usually, you just need to enter the first two letters of the name of the player you want to guess. The system will appear with a list of suggested players for you to choose from.
After you make your initial prediction, six categories will appear directly below. The picture will also be clearer than when you just started.
These six categories represent the player's age, nationality, position, club, shirt number, and league. They also help you check to see if you answered correctly.
If the above option has any characteristics similar to the answer, the item will turn green. For example, if the player you guess is the same age as the player in the answer, the age circle will turn green.
Otherwise, the circle will be gray. Our goal is to find a name that can make all six circles turn green.
With each guess, the picture gets a little clearer. You can rely on this to get information about appearances such as hair color, skin color, or face shape.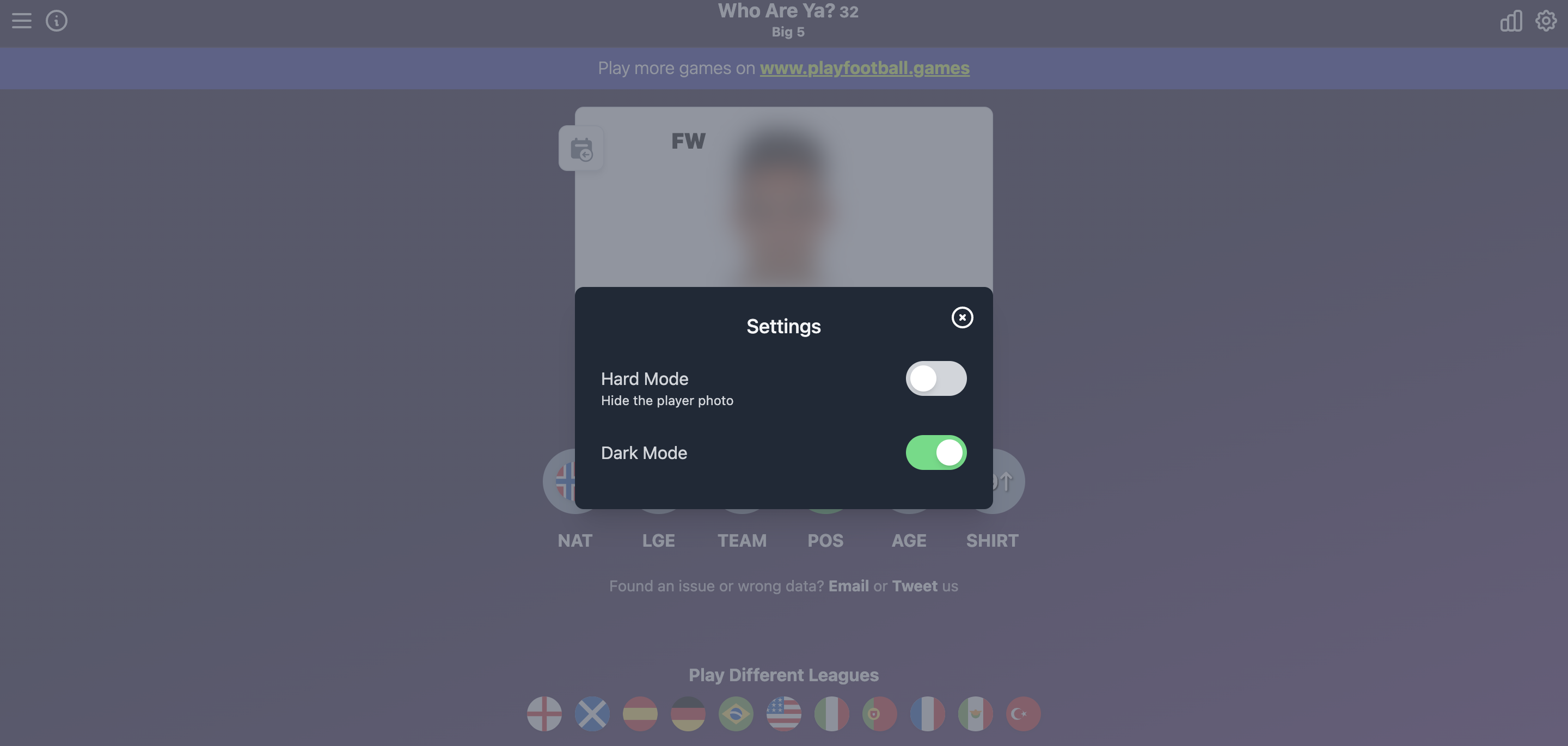 Hard mode 
Hard Mode 
With players who have spent most of their time watching FIFA, the manufacturer has devised a more difficult and challenging game mode. You can select "Hide Photo" if you want.
With this mode, you will speculate using only six suggestions that the website gives without images. The image area will be replaced with a question mark.
If you have selected the game mode and want to switch to difficult mode, click on the gear icon at the top right of the screen. The "Settings" box will pop up after that, and you just need to turn on Hard Mode.
FAQs 
If you still have any questions regarding "Who Are Ya?" read on below to find out.
When Does Who Are Ya Reset?
"Who Are Ya?" has the same mechanism of action as "Wordle." This game will reset at exactly midnight every day local time for each region.
Inside the game, there is a statistics area. Here you can see how much time is left before a new quiz is available under "New footballer in."
Can You Play More Than One Puzzle A Day?
Yes. Although the site only publishes one puzzle per day, you can still play more than one puzzle per day.
Please visit the website archives. Here you can try to re-guess the old puzzles of the game.
How To Play Old Challenges On Who Are Ya?
You can participate in guessing the quiz "Who Are Ya?" published in the past. To access it, select the calendar icon in the upper left of the player's picture.
Once clicked, the web page will show yesterday's quiz again. You can click on that icon to continue playing older questions.
Is Who Are Ya Free?
Yes, "Who Are Ya?" is a free game. The only condition to access the game is that you must be connected to the Internet. Currently, the developer has no indication that they want to add costs.
How To Choose Puzzles From One League?
If you only regularly follow a certain tournament and are not confident in your knowledge, choose a simpler mode.
The manufacturer has created three limited editions for three different leagues, Bundesliga, Premier League, and La Liga.
Conclusion 
Hopefully, this article has given you an overview of the Who Are Ya soccer game. This game is a football version of Wordle with simple but addictive gameplay.
You can play it every day as a small challenge and share the achievements with your friends. Besides, it will also be an interesting topic to discuss in meetings.