Soccer ball size by age: What size soccer ball for 6 year old?
Scotttfujita.com is an informative blog for readers. The products in the article contain affiliate marketing links. We may receive a small commission when you make purchases through our links. You do not need to pay any additional fees for us. See our full disclosures
here
Football is the King sport. It received acclaim from a wide range of fans around the world from children to adults. However, very few people know about the standard soccer ball sizes used in top competitions. In today's football knowledge article, Scott Fujita will go with you to find out what size soccer ball for 6 year old.
What size soccer ball for 6 year old? What is the best soccer ball for u6?
The right ball for players ages 6 is size 3. As you know that the age of the ball player is a factor you need to keep in mind to choose the right ball. Each age will have different standard sizes.
Soccer ball size by age
The standard size of the ball is from size 1 to size 5. Currently, there are 3 types of the most common soccer ball sizes, size 3, size 4 and size 5.
| | | | | |
| --- | --- | --- | --- | --- |
| Ball Size | Age | Circumference | Diameter | Weight |
| Size 3 | under 8 | 23 24 inches (61 62 cm) | 7¼"-7½" | 11 12 oz (320 350 grams) |
| Size 4 | 8-12 | 25 26 inches (63.5 66 cm) | 8″-8¼" | 12 13 oz (350390 grams) |
| Size 5 | 12 and up | 27 28 inches (68 71 cm) | 8½"-9″ | 14 16 oz (400 450 grams) |
Youth soccer ball sizes chart by age group.
1. Size 1 soccer ball
Size 1 is a mini ball. It is a ball for kids from 1-3 years old to play with. Thus, people often call it a "size 3 ages" ball. The size 1 ball has a very small circumference, 18 20 inches, equivalent to 43 cm.
2. Size 2 soccer ball
This ball is suitable for children about 4 years old. This type of "size 4 ages" ball is larger than size 1. Ball circumference from 20 22 inches. It is about 50.1 cm to 55.9 cm.
View more: 
3. Size 3 ball
Size 3 soccer ball is the smallest official ball size. It is the right size for children aged 6 to 8 years old. The ball has a circumference of 23-24 inches. Weight is about 11 – 12 ounces (300 320 grams).
4. Size 4 ball
Size 4 soccer ball is a standard soccer ball for children between the ages of 9 and 11. It measures 25-26 inches in circumference and weighs 11-13 ounces (350 390 grams).
5. Size 5 balls
Ball size 5 is the standard soccer ball size for ages 12 and older. 
Weight: 14-16 ounces (410 450 grams).

Circumference: 27 28 inches.

Pressure: between 8.5-15.6 PSI.

Radius: 4.3-4.5 inches.

Diameter: 8.6-9 inches.
However, the size 5 soccer ball age is not the standard size for all soccer leagues. The size of the soccer ball for each tournament is according to the playing way or the age group.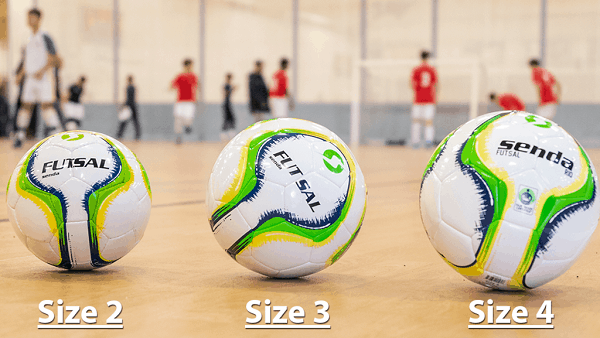 Standard size soccer balls according to the way of play
Currently, the most popular football game is still on the grass field. Besides that, there are beach soccer, futsal, indoor and mini soccer. All of these forms of play use different standard ball sizes.
Standard size soccer balls by way of play is as below:
Mini football:

The way to play mini football is different from field football. But mini football still uses a standard size 5 soccer ball.

Beach Soccer:

The official soccer ball size used in beach soccer is size 5.

Futsal football:

This is a type of indoor football, so a size 4 ball is the most suitable. Due to the hard ground, the ball can not bounce much. A layer of felt and suede covers the ball to increase friction.
Standard soccer balls by field
1. Standard soccer ball for 11-a-side field
The 11-a-side field is a common type of field in football. This is the type of field where many international football leagues take place. Therefore, the ball used for this field needs to have some specific standard parameters.
Accordingly, the 11-person field uses a size 5 ball (the largest size in the soccer ball sizes system). The ball for the 11-a-side field is a ball with great bounce, relatively light weight and high elasticity.
2. Standard soccer ball for 7 and 9-a-side field
In soccer competitions, the field of 7 or 9 people often uses the same ball. For the court surface is natural grass, these two types of courts will use size 5 balls like the 11-a-side court.
However, for bad turf (natural grass) or artificial turf, players often use a size 5 ball with a low bounce.
Using this ball will help the players easily control the ball.
3. Standard soccer ball for 5-a-side field
A 5-a-field, mini-field or a futsal field is a type of field for 5 players per team.
Therefore, the 5-player court often uses a size 4 ball and is a non-bouncing ball. The ball used for the 5-a-side field usually has a certain weight. This makes it easy for the players to control and manage in tight spaces.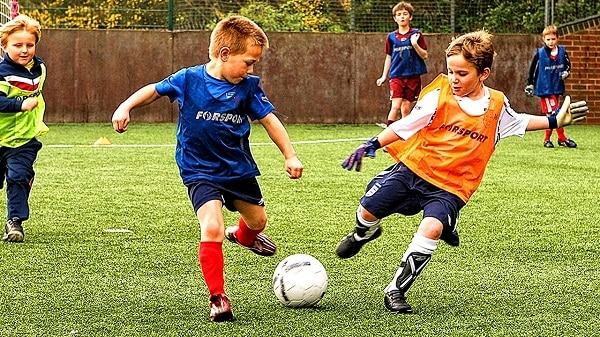 Frequently Asked Questions
1. What types of ball size classifications are there?
The standard soccer ball size used depends on different leagues and age group such as:
Standard sizes of World Cup soccer ball.

Ball size by age.

The size of the ball according to the playing way.
To better understand, let's take a look at each type of ball size.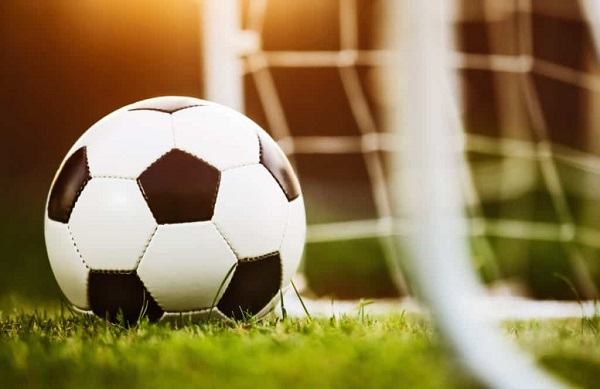 2. What is the official size of a soccer ball?
The official sizes of a regular soccer ball are size 3, size 4 and size 5.
3. What size soccer balls for adults? 
Soccer ball size 5 ball is the most suitable size for adults. Professional leagues also use this size for soccer players. This is the standard size for adult competitions.
4. What size soccer ball for 8 years old?
Younger players or ages 8 should choose size 3. 
5. Is size 1 ball necessarily only for children 1 to 3 years old?
Whether soccer players can use a size 1 soccer ball is the question that received a lot of attention.
Not necessarily. Kids, young players and adults can all use this kind of ball size. With the right ball, it's great to practice and improve footwork skills as well as ball control.
6. Does soccer ball size 6 exist?
Currently not. But with the development of human fitness, size 6 balls may appear in the future. And only time will tell if size 6 balls come out or not.
Conclusion
In the above article, Scott Fujita has shared with you the standard sizes of soccer balls for all ages. And the right size for ages 6 is size 3. Hope you all find useful football knowledge for yourself.