Scotttfujita.com is an informative blog for readers. The products in the article contain affiliate marketing links. We may receive a small commission when you make purchases through our links. You do not need to pay any additional fees for us. See our full disclosures
here
Football is a sport with a particular age barrier. As you get older, your body becomes inflexible enough to follow the opponent. However, this metric is not the norm for everyone. There are still players who, despite their age, run and give their best on the gridiron.
So, who is the oldest football player ever? George Blanda is the oldest player in nfl history. He participated in a total of 26 seasons of his career as a defender. In 1975, he retired at the age of 48.
Is there anyone else on this list oldest nfl player? Find out with Scott Fujita!
The Oldest Football Player In NFL History
The professional career of an NFL player often has a short lifespan. It will be challenging to stay in shape and fit over time. The age of 40 is one of the critical milestones, and only a handful of players can surpass this milestone.
Let's explore the oldest players to have played in the NFL through the top 10 below. We will start at the last position.
#10. Vinny Testaverde – Quarterback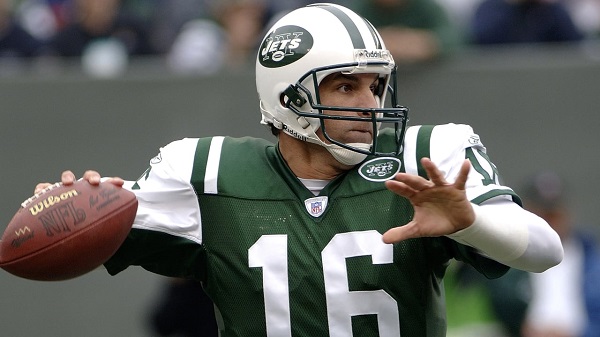 Vinny Testaverde
Years active: 1987-2007

Age in final game: 44 years

Franchises: New York Jets, Tampa Bay Buccaneers, Cleveland Browns, Baltimore Ravens, Carolina Panthers, Dallas Cowboys, New England Patriots
Vinny Testaverde is one of the best passers in the league. The Tampa Bay Buccaneers first pick learned how to protect themselves in the game. The main reason was that he had to endure an average of 2.7 sacks per game starting during his six-year tenure.
Testaverde's professional football career was relatively prosperous with seven teams. He led the way in passing attempts while playing for the New York Jets. At 44, he led the Panthers to victory.
View more:
#9. Steve Deberg – Quarterback
Years active: 1978-1998

Age in final game: 44 years

Franchises: Tampa Bay Buccaneers, Kansas City Chiefs, Denver Broncos, San Francisco 49ers, Atlanta Falcons, Miami Dolphins
In 21 competitive seasons, Steve Deberg mainly sat on the bench for six different teams. In 1998 at the Falcons, he was the replacement for Chris Chandler when the latter suffered a rib and left shoulder injury in a game against the Saints in week seven.
Deberg is also the oldest player in nfl history to start an NFL game. He was then 44 years, nine months, and six days old. He didn't play the whole time but was replaced by Tony Graziani. Despite this, Deberg still completed nine of the 20 passes for 117 yards and threw in.
That year, the Falcons' race to the Super Bowl was also his final season.
#8. Bobby Marshall – Tight End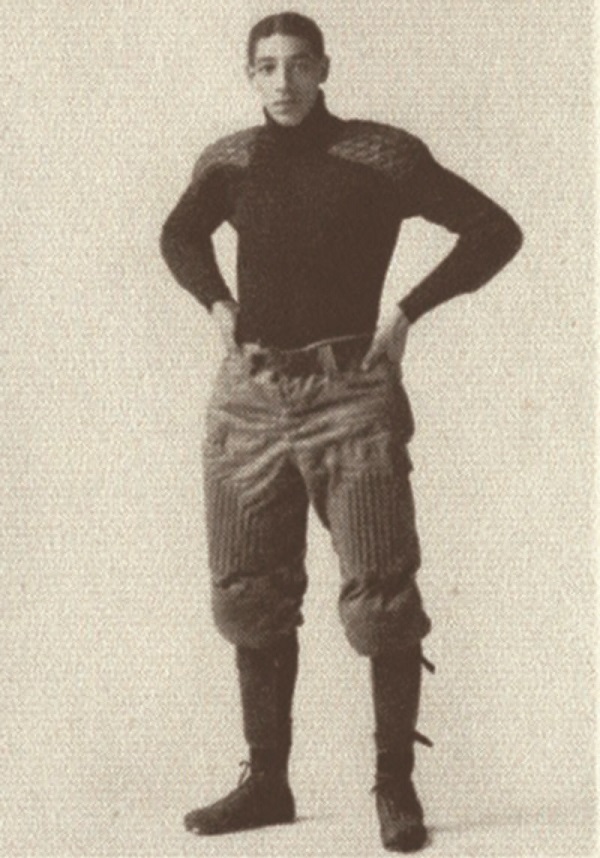 Bobby Marshall
Years active: 1920, 1925

Age in final game: 45 years

Clubs: Rock Island Independents, Duluth Kelleys
Bobby Marshall is a multi-talented player. In addition to football, he also plays track and field, baseball, ice hockey, and boxing. Marshall was a TE while competing at the University of Minnesota from 1904 to 1906.
This tight end was one of the first two African-Americans, along with Fritz Pollard, to play in the NFL.
Marshall's professional sports career in the NFL was relatively brief. Despite this, he was still inducted into the College Football Hall of Fame in 1971.
Related:
#7. Gary Anderson – Kicker
Years active: 1982-2004

Age during final game: 45 years

Franchises: Pittsburgh Steelers, Philadelphia Eagles, Minnesota Vikings, Tennessee Titans, San Francisco 49ers
Gary Anderson is the first South African to play professionally in the NFL and has been in 23 seasons with five different transfers. When he joined the Minnesota Vikings in 1998, he was the first NFL kicker to have a perfect regular season.
Anderson is also the owner of career records for points and field goals scored in the last game with the Titans in 2005. He was 45 years, months, and 17 days old.
#6. Ben Agajanian – Kicker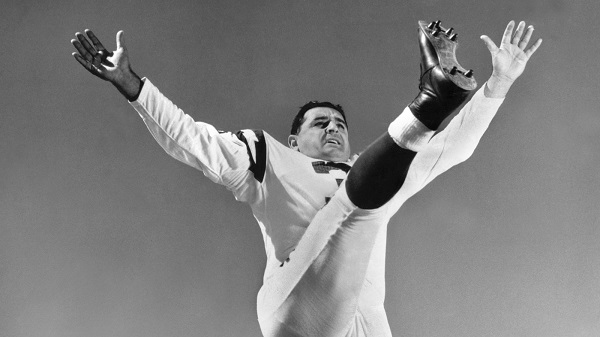 Ben Agajanian
Years active: 1945-1964

Age in final game: 45 years

Clubs: New York Giants, San Diego Chargers, Los Angeles Rams, Dallas Texans, Green Bay Packers, Oakland Raiders, Philadelphia Eagles, Pittsburgh Steelers
Ben Agajanian is an NFL legend.
In 1939, he lost four toes on his kicking foot in a work accident. Despite this, Agajanian still played on the University of New Mexico's college football team and enjoyed a 19-year NFL career. The legendary kicker retired in 1964 with the Chargers.
"The Toeless Wonder" was the owner of two championships in 1956 and 1961.
#5. John Nesser – Offensive Line
Years active: 1921

Age in final game: 46 years

Teams: Columbus Panhandles
John Nesser played until the age of 46 for a single team. He is also part of a sporting family with six members playing football.
#4. John Carney – Kicker
Years active: 1988-2010

Age in final game: 46 years

Teams: San Diego Chargers, New Orleans Saints, Tampa Bay Buccaneers, Jacksonville Jaguars, Kansas City Chiefs, New York Giants, Los Angeles Rams
The veteran kicker signed with the Buccaneers in 1987 and is also one of only two NFL players to compete in four different decades. At 46 years old, John Carney still has enough fitness and toughness to make three goals on the field, contributing to the Saints' 16-14 victory over the Panthers in 2010.
After becoming a free agent two days later, he decided to retire.
#3. Adam Vinatieri – Kicker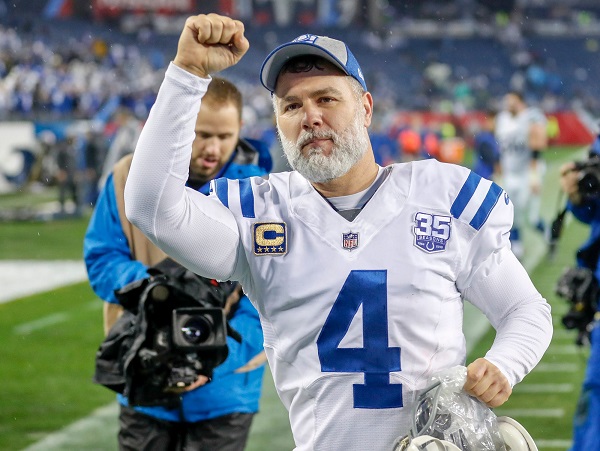 Adam Vinatieri
Years active: 1996-2020

Age in final game: 46

Teams: New England Patriots, Indianapolis Colts
Adam Vinatieri has scored many marks in his professional playing career. He holds the records for points scored, postseason points scored, and goals scored on the pitch.
Along with those remarkable records, Vinatieri is also the person who scored the most consecutive goals on the field with 44 goals. He is also the owner of four Super Bowl trophies.
#2. Morten Andersen – Kicker
Years active: 1982-2007

Age in final game: 47

Teams: New Orleans Saints, Atlanta Falcons, New York Giants, Kansas City Chiefs, Minnesota Vikings
One of only two kickers to appear in the Pro Football Hall of Fame, Andersen had an explosive season in 2007. He scored 25 out of 28 goals. However, no more teams signed him after that. Andersen was 47 years, four months, and 11 days old at that time.
Had this kicker played on or after December 6, 2008, he would have been at the top of this list.
#1. George Blanda – Quarterback / Kicker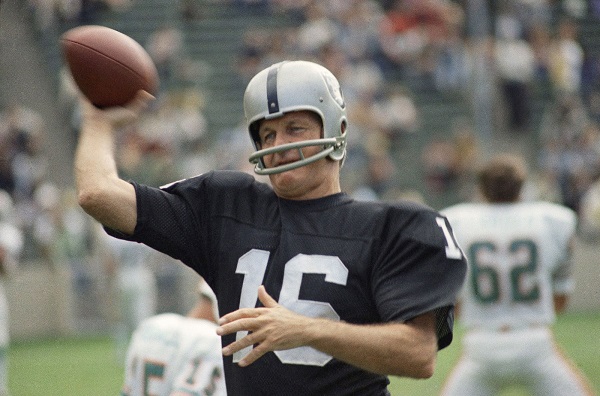 George Blanda
Years active: 1949-1975

Age in final game: 48

Teams: Chicago Bears, Oakland Raiders, Houston Oilers, Baltimore Colts
Blanda's ten-season career with the Bears from 1958 ended because head coach George Halas wanted to use him as a kicker. In 1960, Blanda played for AFL's Houston Oilers in both positions and won two league titles.
After signing with the Raiders in 1967, he had a memorable career turning the season around with a 4-0-1 difference. Unfortunately, Blanda's final match at the age of 48 at the 1976 AFC Championship was a loss. Even so, he still scored a field goal and kicked an extra point.
Who Is The Oldest NFL Player Still Active Now?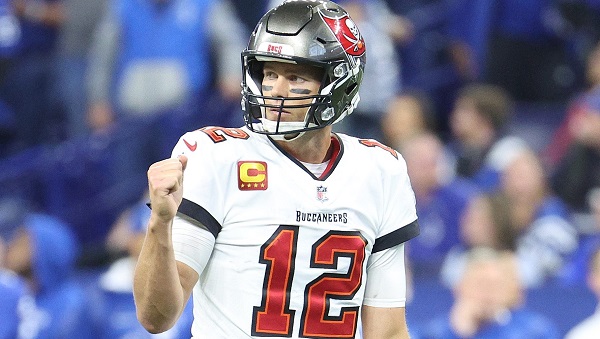 Tom Brady
With Drew Brees and Adam Vinatieri retiring, Tom Brady is now the oldest quarterback still active, over 40 years old. He could even go further and be in the top 10 if he wasn't injured and kept his form. It can be said that Brady is the only player who can threaten Blanda's position.
If Ben Roethlisberger continues to play quarterback at the Pittsburgh Steelers in 2022, he will most likely join the 40th club with Tom Brady. In third place was Washington Football Team QB Ryan Fitzpatrick. He will turn 40 years old on November 24, 2022.
In addition, there are still some active NFL players who can reach four-decade career milestones.
L.P. Ladouceur is a snapper who has appeared in every Dallas Cowboys game since his rookie campaign in 2005. Still, he's a free agent with an uncertain future in the NFL into the 2022 season.
Following Ladouceur on the long list is long-skinned snapper Don Muhlbach, who turned 40 this month and was cut by the Detroit Lions on his birthday.
While Muhlbach is the longest-running NFL active player outside of Brady, the next oldest NFL player not to play quarterback in 2022 is the Los Angeles Rams left-stopping Andrew Whitworth. The 15-year NFL veteran and two-time All-Pro will turn 40 in December.
Final Thoughts
The oldest football player ever on the list above have proven the tenacity and undying will to compete in professional sports. They have made up for the lack of physical strength with their experience and proficient skills. Hopefully, in the future, we will see more new faces.
Thank you for reading!