Top 10 Best College Basketball Players Of All Time
Scotttfujita.com is an informative blog for readers. The products in the article contain affiliate marketing links. We may receive a small commission when you make purchases through our links. You do not need to pay any additional fees for us. See our full disclosures
here
Everybody falls in love with the NCAA tournament for its thrill and exciting emotions. It is also the starting place for outstanding faces who can make their mark when playing in the NBA.
Young players are one of the factors that attract the audience. If a player has an impressive college career, he will have a better starting point later.
The ranking of the brightest faces has also gradually become a hot topic in the fan community. Who is the best college basketball players of all time? 
In this article, Scott Fujita will give his opinion with a list of the top 10 college basketball players we rate the most. Let's find out who they are!
List Of The Best College Basketball Players
Many factors go into making this list. We review all player achievements throughout college basketball history. Titles such as the National Championship, Big Ten title, or NCAA/ ACC Player of the Year are also notable factors. Here is a list of the greatest college basketball players of all time. 
Related: Best 3 point shooters in NBA
10. Elvin Hayes – Houston (1966-1968)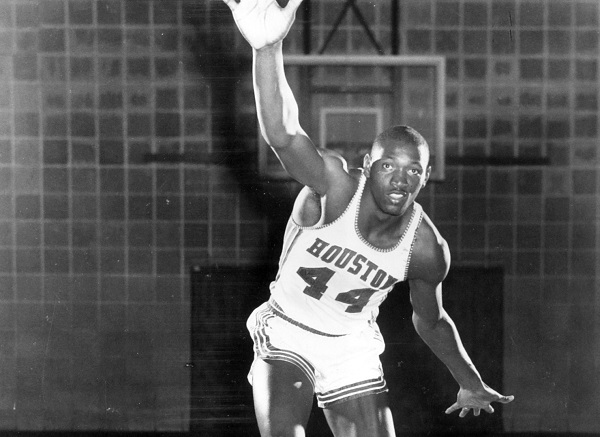 Elvin Hayes 
As Houston's first African-American basketball player in 1966, Elvin Hayes had a successful career leading the team to the Final Four for the next two seasons.
His stats are impressive. He has owned five NCAA tournament games with 20 rebounds and eight games with 25 points. These numbers are comparable to the legendary Jerry West and Bill Russell.
The clash between Hayes and Lew Alcindor and UCLA has left a deep impression to this day as Houston has stopped UCLA's 47-match winning streak. In 1968, he received the title of Player of the Year.
9. Magic Johnson – Michigan State (1978-1979)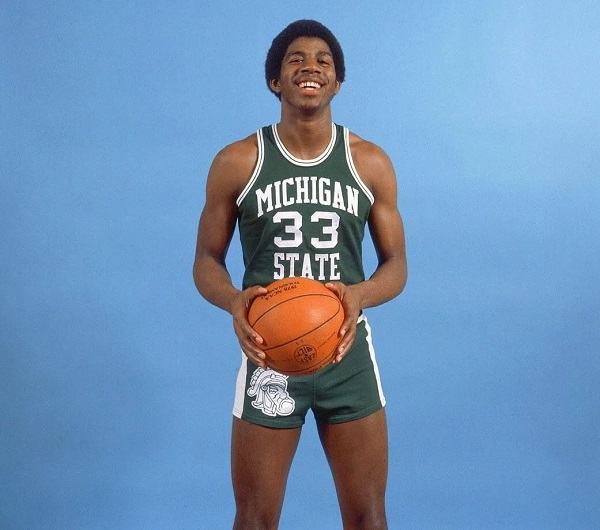 Magic Johnson 
Earvin "Magic" Johnson became a star and started competing professionally with just two seasons in the NCAA under the Michigan State team. This rapid advancement served as the inspiration for the college basketball world that followed.
Point guard Johnson had two great seasons with the Spartans, especially the second season. He led a lackluster college basketball team to a national championship game victory over the Sycamores in 1979.
With the help of talented forward Greg Kelser, Johnson had enough space to showcase his talents. This match is still one of the legendary confrontations when the opposing team owns another star, Larry Bird.
View more:
8. Larry Bird – Indiana State (1977-1979)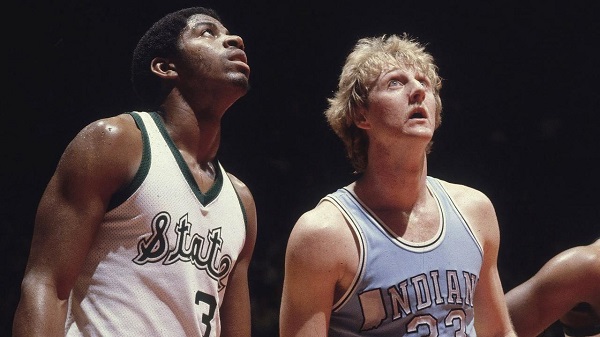 Larry Bird 
Not only known by the exciting nickname "Hick from French Lick," but Larry Bird is also a true superstar since his junior season.
With his participation, Sycamores experienced the feeling of being on top and reaching the pinnacle of participating in the NCAA championship game. The former Hoosiers' style of play, sadly, contradicts the guidance of head coach Bobby Knight.
Indiana State has what Bird was looking for. This college player averaged 30 points, 13 rebounds, and three steals per college game with all the attention on him.
The match between "Magic and Bird" in 1979 was the premise to change the NCAA basketball culture later.
7. Wilt Chamberlain – Kansas (1956-1958)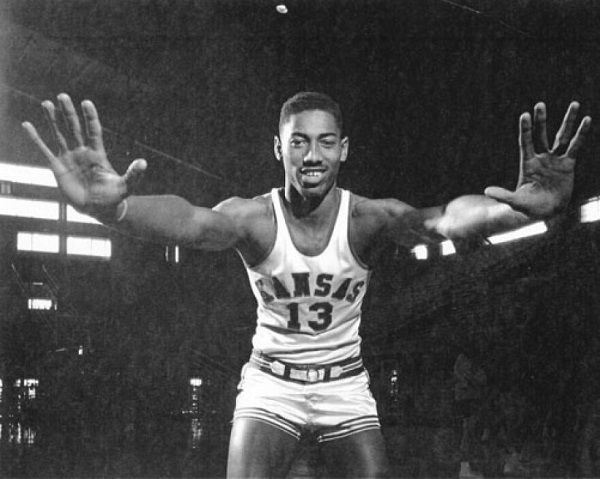 Wilt Chamberlain 
From the first NCAA tournament, Wilt Chamberlain rocked the tournament with record numbers that no one would have imagined in a rookie. In his first game against Kansas, he scored 31 rebounds and 52 points.
Overcoming racism and doubts surrounding talent, Chamberlain advanced to the national championship game. Their rival North Carolina state is extremely cautious with him and always "takes care" of this star carefully.
Although Kansas was defeated after three extra innings, Chamberlain's stellar performance still earned him the title of Player of the Year.
6. Jerry West – West Virginia (1957-1960)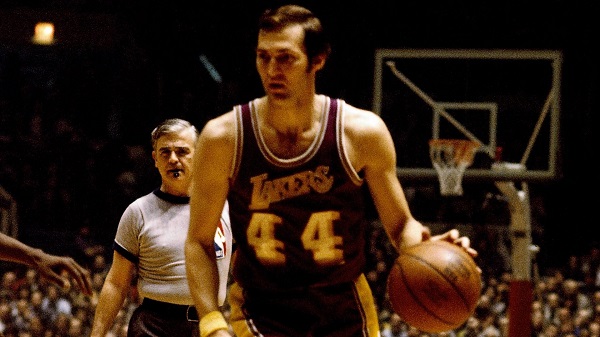 Jerry West 
West Virginia has brought us a leading scorer – Jerry West. Not only does he have the iconic outline during the NBA tournament, but he also has an admirable playing stat. West averaged 25 points and 13 rebounds in the NCAA tournament while playing for the Mountaineers.
He almost got his hands on the national title in a 1959 game against Berkeley. They had a six-point lead at halftime but were narrowly lost 71-70 at the last minute.
With 28 points and 48% from the free-throw line, West has done his job excellently.
5. Oscar Robertson – Cincinnati (1957-1960)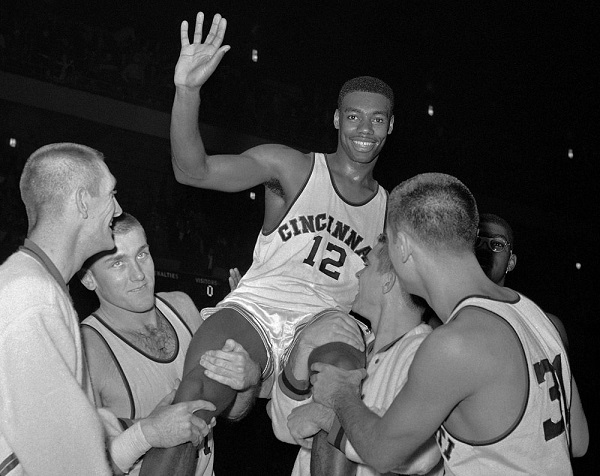 Oscar Robertson 
True to his title, the Big O has consistently delivered outstanding achievements. Oscar Robertson's stats are formidable, averaging 15 rebounds and seven assists in his collegiate career. Robertson also scored about 34 points per game.
In three seasons playing against Cincinnati, Big O was the owner of the three Consensus National Player of the Year titles. Just that is enough for us to know about his outstanding playing ability.
There probably will not be many players with as many triple-doubles in NCAA tournament history as Robertson. He also ranks third on the list of players with the most points at a match, with 56 points.
4. Bill Walton – UCLA (1971-1974)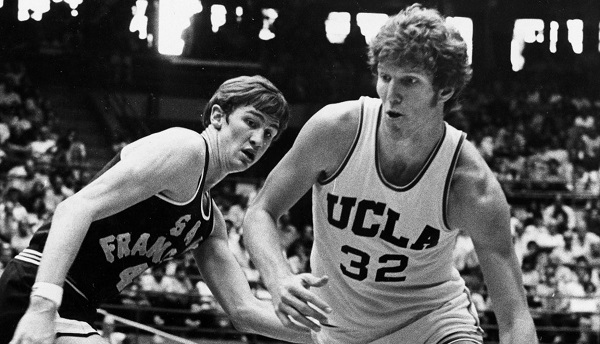 Bill Walton 
UCLA is genuinely a great empire in the NCAA tournament with achievements few college basketball teams can match. This NCAA tournament team has a quality roster of players and the innovative leadership of a legendary head coach.
One of the prominent faces of the Bruins at the time was Bill Walton. He is one of the most excellent passing centers in NCAA history.
During his tenure, Walton led UCLA into their own empire while dominating the NCAA tournament for a long time. He is the leader of two 30-0 teams, with 88 wins in total. Two consecutive NCAA championships in 1972 and 1973 contributed to the influence of Walton.
In the 1973 final against Memphis State, this player of the year hit 21 of 22 shots to score 44 points. This number has so far remained an insurmountable barrier in college basketball history.
3. Bill Russell – San Francisco (1953-1956)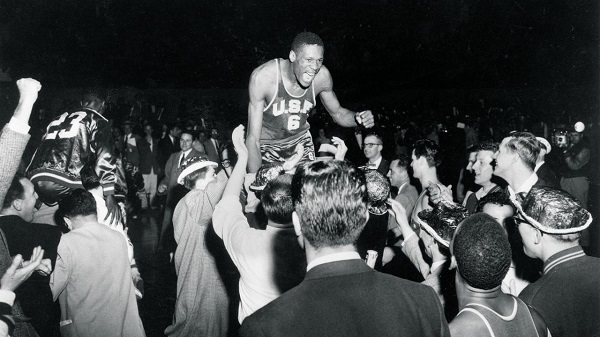 Bill Russell 
Bill Russell's achievements are fully deserved for him to take third place on the list. Since his freshman season, this trusted center has proven to be a bulwark for any lineup he was on.
There were a lot of outstanding players one season ago, but then there was a decline in form. Russell's consistency in strength throughout the NCAA tournament is what sets him apart.
This star was the first college basketball player to make the NCAA widen the free-throw lane twelve feet to reduce dominance. With optimal fitness and incredible strength, no one can doubt Bill Russell's defensive ability.
Bill Russell had two national titles with USF Dons in 1955 and 1956. After being selected in the NBA Draft, he ushered in a new era with 11 NBA championships with the Boston Celtics.
2. Pete Maravich – LSU (1968-1970)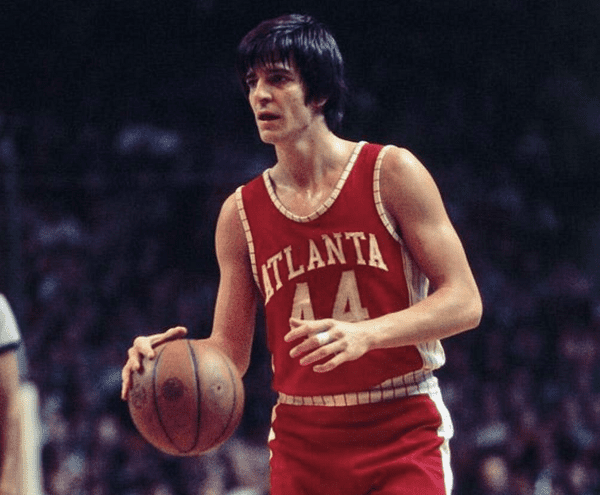 Pete Maravich
Standing second on the list of the greatest college basketball players is "Pistol" Pete Maravich. During his college basketball career, Maravich averaged 44.2 points per game. True to his name, his throws are unbelievably accurate and fast.
Another fact you should note is that there is no appearance of the three-point line at this time. If Maravich had been allowed to join the varsity team in his freshman season, he could have scored more points.
Although he only started appearing in the senior season, he was still a chosen name on three All-American teams. The scoring record alone proves that "Pistol" is one of the most significant point guards in college basketball.
1. Lew Alcindor – UCLA (1967-1969)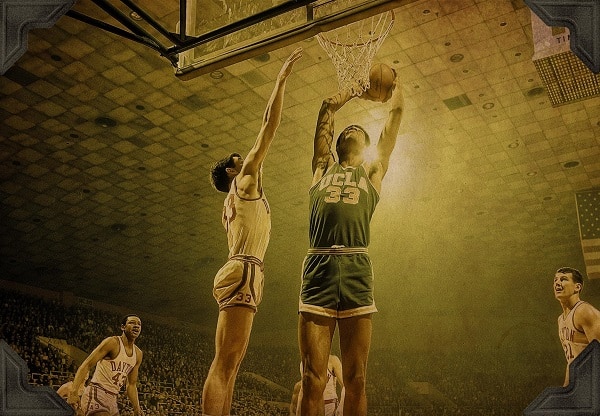 Lew Alcindor 
Lew Alcindor is the hero of UCLA and has written a glorious history for this NCAA team. He is fully qualified to be the best college basketball player ever.
The Bruins' amazing 47-match winning streak also owes a big part to him. After receiving a surprise defeat to Houston in 1968, Alcindor's form had somewhat declined. He only averaged 26.2 points per game.
Alcindor's record, though, is still excellent. This college star won three NCAA championships during his time in the competition. In all those three seasons, he was also the owner of the title of Player of the year.
Accompanied by three consensus All-American selections, none other than Alcindor deserves the title of the greatest college basketball player of all time.
His miracles don't stop at the NCAA. After joining the NBA and changing his name to Kareem Abdul-Jabbar, he took the Lakers to the next level.
Honorable Mention: Ralph Sampson
Ralph Sampson.
The center of the Cavaliers is a name that we cannot ignore. He has won three Naismith Awards as National Player of the Year alongside Bill Walton.
Sampson was also the owner of the NIT title in 1980. He and his team had the NCAA Final Four appearance in 1981. In 1983, Sampson and Virginia continued to feature in the NCAA Elite Eight.
Final Thoughts
The highly regarded college basketball players during their NCAA competition are all future stars of the NBA. So they received a lot of attention and interest from the public and fans.
The list that we give is still likely to change shortly with the appearance of new stars. Let us wait and see who will be the brightest face in the following NCAA tournament.