Nike is proud to present the Nike Lunar Beast TD model with a NikeSkin layer that provides unmatched durability and protection. The brand promises a football cleat that is secure, multi-directional grip, and can withstand trenches.
Inspired by defensive tackle Ndamukong Suh, Nike has launched a shoe specifically for the lineman. Does this product really live up to the recommendations and honors? Let's dig deeper with Scott Fujita in the article below.
Comprehensive Nike Lunarbeast Elite TD Review 2021
Fierce battles in the line of scrimmage can determine the outcome of an entire football match. Will it be a 60-yard touchdown or a 10-yard defeat? It all depends on the player's reaction.
They need to have the speed, traction, and flexibility to score at 60 yards. Football cleats that meet these elements need to have a lightweight sole and an innovative rivet shape.
With tight ends or linemen, the Nike Lunarbeast Elite TD is one of the most affordable options for you. It provides complete freedom of movement without requiring you to sacrifice any fixed support for your ankle.
The product is available on Amazon. Check out today's best deal.
Nike Lunarbeast Elite TD 847641-114 White-Navy Blue Men's Football Cleats 10 US
$69.99
as of October 25, 2021 6:25 am
What We Like
It offers lightweight protection and durability.

Dynamic Nike Flywire locks the foot in place for support.

The faux collar is durable, supportive, and flexible.

Rivets are built for a powerful traction system.

NikeSkin strengthens the sole to last all season.
Things To Consider
Other players than linemen might find this shoe uncomfortable.

It cannot be easy to break in despite the knit neck.
It is difficult to find user reviews about this product. The main reason is that Nike has been producing it since 2015. This shoe is also not appearing much on e-commerce stores anymore.
We recommend you buy at Amazon or the official Nike website for a verified purchase. You should contact them in advance to receive information related to stock or shipping.
Lunarbeast Football Cleats: Highlight Features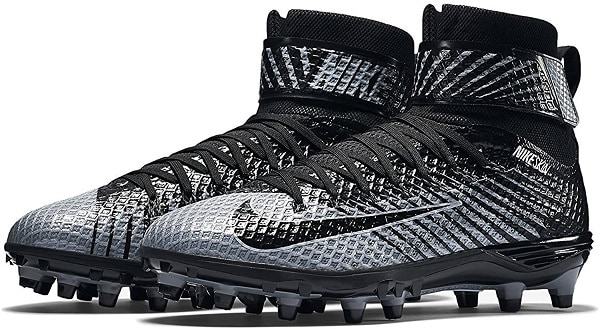 Nike Lunarbeast Elite TD
Unparalleled durability and a powerful traction system are the hallmarks of the Nike Lunarbeast Elite TD shoes. It makes up for the shortfalls in advanced technology that you can find in today's latest models.
This section will go into depth analysis as well as the benefits that this Nike cleat can bring you. For a more intuitive look, check out this video.
Material
The primary material of the Lunarbeast Elite TD is the patented NikeSkin. Its main advantage is its perfect durability and tight fit on the sole. It also provides protection and has a sturdy construction that wraps around the toes.
You also won't have to worry about cleaning your shoes because NikeSkin is easy to clean. Your shoes will look new all season long.
Dynamic Flywire cables run around the midfoot. You can tighten them quickly to keep your feet in place when moving. The cushioned lunar lawn midsole is an excellent addition to the midsole bounce. It provides spring as you move to counter the rigidity of Flywire.
When you wear the Nike Lunarbeast Elite TD, you can rest assured that it has complete ankle coverage. Comfortable high-neck foam provides maximum protection without sacrificing flexibility.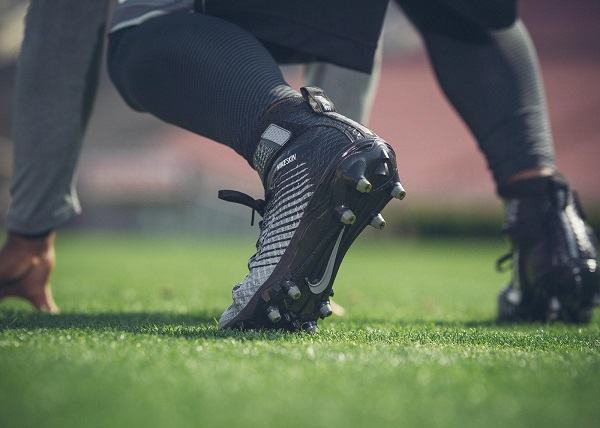 These Nike football cleats provide excellent traction
Studs
Nike equips the Lunarbeast Elite TD with a molded TPU plate that uses three different types of studs.
The large molded studs are the first highlight. Serrated edges help dig deep into the ground and maximize traction. We haven't even mentioned the edge blade on the face of the pad. And yet, the rear claws will make you as solid as an old tree.
Two types of studs on the back of the buckle are used to place posts or kick legs. Nike is very subtle in choosing a high design to increase the unparalleled level of force.
Weight
The Nike Lunarbeast Elite TD weight is the last strong point we want to mention. This shoe is extremely light at only 16 ounces. Remember that this is one of the true-to-size cleats, so choose the right size when shopping.
Frequently Asked Questions
This section will help you answer some more questions about the Lunarbeast Elite TD product line.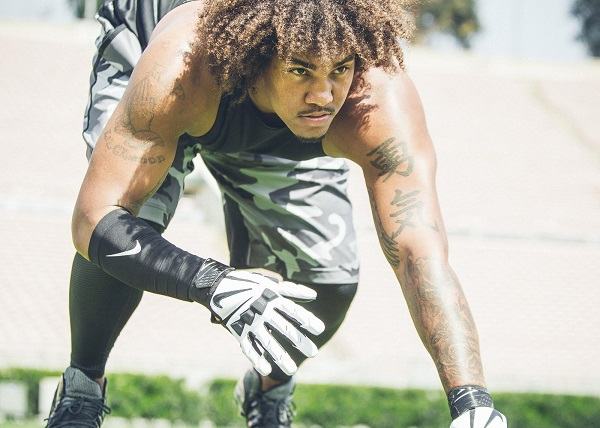 Lineman will benefit the most when using this item
Who is suitable for the Elite TD cleats?
This shoe provides good traction and maximum explosive potential for the user. Therefore, we think it would be best suited for linebackers or defensive ends. Linemen is also the right audience for the Elite TD, as Nike thought of this position when creating the product.
Excellent ankle support, sturdy Flywire cables, and absolute traction are the Elite TD strengths these positions will need.
What is NikeSkin good for?
As the name suggests, NikeSkin technology gives users a comfortable and natural experience like a second skin. The highly durable material provides perfect foot protection while keeping the shoe light and comfortable.
Final Thoughts
Hopefully, our review of the Nike Lunarbeast Elite TD will help you get a better overview of this product. If you have any real experience with them, don't hesitate to comment.