Surviving chemo and the Spartan Beast at Toro Park
Surviving chemo and the Spartan Beast at Toro Park have some things in common
By Mark Anderson; Thursday, June 12, 2014
Questions accompany the run-up to events like last weekend's Spartan Beast Race at Toro Park, a cramp-collecting, 13-mile, 28-obstacle odyssey of rope climbing, muddy crawling and tractor-tire flipping.
What will the course be like? How many hills will we have to climb? What new obstacles will they throw down?
Those questions come from participants themselves. (The respective answers include: gleefully cruel; seemingly one each mile; and the "monkey net." For a 30-photo slideshow of the race, check out "A look back at the second annual Spartan Beast obstacle race at Toro Park."
There are others questions, pointed at participants by others. One in particular gets more play than the rest: Why, exactly, are you doing this?
• • •
What a difference a year makes.
Last August, the Spartan's Monterey County debut was a novelty of sorts. The booming Spartan subculture, which circulates workouts and recipes online and races at different, daunting distances, traveled here to take it on, as they do at destinations stretching from South Africa to South Carolina to South Korea. As they brought both competitive chops (a winning time under 2 hours) and goofy costumes (panda hats and Speedos), locals didn't know what to make of it.
A year later, local participation rose dramatically. Former NFL linebacker and Carmel Valley resident Scott Fujita figured he needed an excuse to train, gathering a tribe of weekend warriors for workouts including Laureles Grade uphills, medicine balls and bear crawls across the faux lawn. Surf N Sand owner Ryan Sanchez shed 30 pounds readying for the race, and a few more in four hours doing it. I signed up with an old friend who rarely tires of exercise, Tony Piccuta of Pebble Beach.
A year ago, the Toro course featured a mile-long climb up Barlow Canyon. Since no two courses are ever the same – even on the same terrain – a second year means a peek into the mind of a course designer like Dan Yotive, who has laid out Spartan tracks from Miami to Malibu.
"The sport is evolving a lot," he says. "People get psyched to see some of their favorite obstacles – a lot are building them at home or at their CrossFit gym – and we're always excited to introduce a new obstacle, a steeper hill."
In reversing the 2013 race flow completely, his team moved 50 tons of dirt in seven days and built obstacles with enough lumber to build five houses. He estimated the elevation gain alone to be 4,500 feet – and compared the terrain to what racers face on ski mountains back east. Marking the path – including sketchy goat trails far too steep to run and dusty single-tracks through brush and poison oak – took five full days. Instead of one major climb, there are three.
"At Toro, I like to stand on top of the tallest hill," he says. "You can see the entire course map, drawn out by people – people out there pushing it, through heat, hills, obstacles – and try to imagine what they're going through."
• • •
A year ago, Piccuta, 37, was doing one of two things: Sitting in the hospital or getting ready to go in.
Six months later, in October, he attempted a Spartan Beast along a desolate and deflating course Yotive designed on the outskirts of Sacramento.
Before the race, the questions came. His new wife Erika did the asking. How are you feeling? You sure you want to do this? She also added a question that was more of a command: Don't die, OK?!
She had cause to be concerned: Chemo had recently cleared of him of non-Hodgkin's B cell lymphoma, but it had robbed him of his hair and much of his stamina.
The race waiver didn't ease anxiety.
"The risk of injury and/or death from the Spartan Race is significant," it reads, "including but not limited to the following: (i) drowning; (ii) near-drowning; (iii) sprains; (iv) strains; (v) fractures; (vi) heat and cold injuries; (vii) over-use syndrome; (viii) injuries involving vehicles; (ix) animal bites and/or stings; (x) contact with poisonous plants; (xi) accidents involving, but not limited to paddling, climbing, biking, hiking, snow shoeing, travel by boat, truck or car; (xii) heart attack and (xiii) the potential for permanent paralysis and/or death."
"THE SCARIEST THING IS WHEN YOU DON'T KNOW WHAT IT IS."
Ultimately, the burpees  – a combination of a pushup, mountain climber and a jump – bothered Piccuta more than any near-drowning or animal bites. If you fail to, say, leap across a series of eight skinny telephone pole ends buried in the soil, or slip from strangely spaced monkey bars, the penalty is 30 burpees. Piccuta had to do 120 by mile two.
After filling a huge bucket with rocks and carrying it up a hill and back (without putting it on a shoulder or spilling), he couldn't scale a 25-foot rope over another mud pit. "You're gonna let a girl beat you?!" a staffer screamed, pointing at the athlete scooting up the rope to his right.
He dropped into the mud, dragged himself out of the pit, did 30 more burpees and walked to the next obstacle.
He picked up the spear and threw it at the stack of hay bales. It smacked the target sideways and fell. Thirty more burpees. He was up to 180.
Nine miles of pasture and pain remained. But he had nothing left.
• • •
A half year later, before the Toro race, I had my own questions for Piccuta. One was about his unchosen obstacle. "The scariest thing about cancer – undoubtedly – is when don't know what it is," he replied. "You don't know the prognosis. You just know you could die."
There aren't many ways to prepare for uncertainty like that. Last year, a Spartan organizer hinted at one.
"The fear of the unknown is a powerful fear," spokesperson Carrie Adams said. "We don't release the course map. We don't even say how long it is. People have to think, 'I'm just going to the start line. I have to finish.'"
Next question for Piccuta: What happened in Sacramento?
"I completely underestimated just how difficult the race would be for me," he said. My mind climbed way back to the ceiling of his childhood bedroom, where a computer print-out blared, "FAILING TO PREPARE IS PREPARING TO FAIL."
Last question: Why, exactly, are you doing this?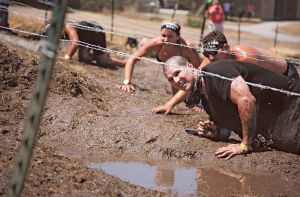 "You should try to push yourself as much as you can all the time," he said. "In a lifetime where you didn't do those things, where you haven't pushed, you haven't lived a full life."
I could almost hear Spartan founder Joe DeSena. "Deep down inside," he says, "people need to be tested, pushed, to achieve a feeling of accomplishment and, ultimately, greatness."
Yotive sees survivors each race. "They've faced down death," he says. "They say, 'I want to live.'"
On Saturday, we lived through the heat and the dust and trails where a misstep meant certain injury. In the first 20 minutes we heard over an official's radio a man separated his shoulder falling off a wall. We dove downhill to the maze of challenges – "Hercules hoist," quarter-mile "sandbag carry" and "tire drag" among them – then back up to more walls and barbed wire and firehoses to the face.
By the time Piccuta emerged from the final gauntlet and finished, his smile hinted at how many penalty burpees he had to do over a long morning: zero.
He didn't plan on that, but he did strive for it. And while he didn't do any of the "I am a Spartan" shouting at the start, he emerged a Beast in the end.
No question about it.
For more on the SPARTAN RACE SERIES, visit www.spartanrace.com
Full article at: http://www.montereycountyweekly.com/etc/outside/surviving-chemo-and-the-spartan-beast-at-toro-park-have/article_23798f1a-f1c9-11e3-9c30-0017a43b2370.html