Archive for Press Room
Scott Fujita talks preseason injuries on The Jim Rome Show
August 24, 2015 1:41 PM
Early in yesterday's preseason game against the Pittsburgh Steelers, Green Bay Packers receiver Jordy Nelson is believed to have torn his anterior cruciate ligament in his left knee. If MRI results confirm, former NFL linebacker Scott Fujita says the Packers organization can try and spin it any way they want, but there's no way to replace a Pro Bowl wideout like Nelson now.
"You're going to hear all the usual coach speak you know, 'A guy went down. Hey, its part of the game. The next guy's got to step up,' but we all know that's a bunch of crap," Fujita told The Jim Rome Show.
Fujita says it's a shame players go down like Nelson every year in preseason but doesn't have an answer on the best way to prevent such injuries.
"I honestly don't know what the right fix is," Fujita said. "If you ask the coaches, they say they need a couple games to develop their players, an actual player, one who might be a starter, you feel like you don't need any time at all in those games. And then for guys who are just trying to make the roster they want as much opportunity as possible. So there's really no quick fix about it, and it's a complicated mess I think that everybody is in, players, coaches, and the league."
The Super Bowl XLIV champion says a number of factors are in play for players in preseason games on whether or not it's important to them or not.
"For a younger guy, I'd be lying if I didn't say I was the guy banging my heads up against lockers the first couple years in the league, you know, trying to impress the coaches and make a name for myself, and if you can take a big shot on somebody, you're going to probably take it," Fujita said. "But then later on you realize, 'Hey, let's just get everybody through this game as healthy as possible.' So it has everything to do with where you're at in your career. And again those special teams guys who are just clawing and scratching for the last couple spots on the roster, I mean honestly, they need those kind of reps. They want to do everything they can to showcase their abilities because they get very reduced reps in practice and that's their one shot."
Fujita admitted late in his playing career avoiding preseason injury was more important to him than playing hard.
"Towards the end, I would try to get through a preseason game without hitting the ground one time. That was honestly a goal of mine," Fujita said. "I'll go through and kind of make it look good and make a few bits of contact here and there, but to stay off the grounds at all cost. So not laying out for any tackles, not trying to avoid any cut blocks and get myself hurt. It was just anything you could do to not get hurt. And when you play like that you are actually putting yourself in a position to get hurt."
However, Fujita says the biggest loser in preseason games is the fans that show up at the stadium.
"To me honestly, the biggest travesty is that people still got pay full price at the gate and 12 bucks a beer to watch crap football, that's the biggest crap about this whole thing."
Jim Rome Radio Show – Fuji Interview 8.24.15
Full story at: http://jimrome.com/2015/08/24/scott-fujita-talks-preseason-injuries-on-the-jim-rome-show/

'I Chickened Out'
Ex-linebacker Scott Fujita nearly walked away because of concussion concerns but couldn't 'get off the hamster wheel.' His perspective on Chris Borland's bold decision, plus answering questions about Deflategate, Marcus Mariota and more
By: Peter King; March 18, 2015
There is no moral of the Chris Borland story yet. We don't know, nor should we draw any hasty conclusions, about the meaning of a rising-star 24-year-old player's decision to quit football after his first year in the NFL. It is certainly not meaningless when a promising linebacker leaves the game due to fear over his long-term health. But will others follow? Will the league redouble its health-and-safety efforts? And, in the end, isn't there simply a danger to this game that those who play it and those who watch it are going to have to accept?
In my three decades covering football, I've met a lot of smart players. I went looking for one who would have much in common with Borland to see what he thought of the decision. So I spoke with three smart linebackers who I knew wouldn't sugarcoat their feelings about what Borland had done. Two chose not to talk about it—one because his career is teetering on the edge of being over, and another because he said his feelings about it were too raw, and because he didn't know enough about why Borland had quit.But recently retired Scott Fujita—a linebacker like Borland, a mid-round draft pick like Borland, a captain-of-the-defense-type like Borland, and extremely smart like Borland—did speak, and eloquently.
Fujita, now living in California, said he greatly admired what Borland did. He said he almost quit at age 30, after his eighth season in the league, after he played for the Super Bowl-winning Saints in 2009, because he'd sustained a concussion in the Super Bowl win over Indianapolis and thought he should walk away.
"But I chickened out," Fujita said. "A week or so before free agency began [in 2010], everything cleared up, I felt good, and I realized I still wanted to play."
And there was the matter of a three-year, $14-million contract with Cleveland ($8 million guaranteed) to consider. Fujita played. Well, sort of. He finished each of his three seasons in Cleveland injured, and never had a year there befitting his talent. As Fujita said: "I limped to the finish line of my career."
His story: "I was paid well in Cleveland, and my family and I will benefit from it the rest of our lives. That's what is tough late in your career. After I got the concussion in the Super Bowl, in the weeks after, my wife would say to me, 'You just don't seem like yourself.' But you think you've got one last chance for a bite at the apple, and you feel good enough, and you figure you should take it.
"That's why, with Borland, my first reaction is he was brave and smart and courageous to make a decision like this. And mature, for a 24-year-old. How many guys that age would do their homework on their own and research head trauma and be able to come up with such a major life decision with such an attractive football future ahead of them?
"I can tell you this: No matter how intelligently you think about your future, and a decision like that, it's tough to get off the hamster wheel and stop playing."
One of the reasons I reached out to Fujita was to try to put things in perspective. I always felt, even with the toughest issues, he could look at things from all sides. Which is why I wanted to know what he thought about the long-term effect of Borland's decision—if he could see one yet.
He can't. It's too early. Not enough has happened.
"I don't see this as an indictment of football necessarily," Fujita said. "This is just one more piece in a broader conversation about a very complicated puzzle. I've always said the biggest threat to football, long-term, will be a diminishing talent pool. But we don't know if there will be one yet, or when that will happen. So everyone should cool it with the hyperbole."
Couldn't have said it better myself.
Full article posted at: http://mmqb.si.com/2015/03/18/chris-borland-scott-fujita-nfl/
Chris Kluwe, Brendon Ayanbadejo, and Scott Fujita Announce New "Athletes' Brief" on Marriage Equality at Supreme Court
March 6, 2015
Minneapolis, MN, March 6, 2015 – Former NFL players and human rights supporters Chris Kluwe (Minnesota Vikings), Brendon Ayanbadejo (Baltimore Ravens), and Scott Fujita (New Orleans Saints), announced today that they have filed an "Athletes' Brief" with the U.S. Supreme Court (#AthletesBrief) in the case of Obergefell v. Hodges (No. 14-556), which is the case that will consider whether marriage equality should be the law of the land, rather than a select few states.  This brief supplements an earlier amicus brief they filed in the case of Hollingsworth v. Perry, which challenged California's Proposition 8 ban on same-sex marriage.  Both briefs express the importance of equal rights, and the role that athletes play in affecting public behavior and perception toward issues like homosexuality.
Kluwe and Ayanbadejo are represented pro bono in the Supreme Court by appellate specialist John Dragseth of Fish & Richardson, and Timothy Holbrook, Associate Dean of Faculty and Professor of Law at Emory University School of Law.
The brief emphasizes how much has changed in the mere two years since the Hollingsworth case – with 38% of Americans then living in states having marriage equality, and the number increasing to 70% now – and nearly 8 in 10 young people now supporting marriage equality.  The brief also highlights the great change in sports during the same period, with both Jason Collins in the NBA and Michael Sam in the NFL both becoming the first out gay players in their respective sports.  In both situations, the brief points out, "the supposedly backward, macho group of professional male athletes was itself professional enough to treat these men properly and as equals – something that the U.S. laws can also certainly do."  With respect to their own experience living in California, they note that they "can affirm, without question, that the introduction of gay marriage around them has been a great, direct, and life-improving action for their gay friends.  And for their straight friends and acquaintances, they can affirm that the change has had no effect."  Yet, the brief notes, many have leveled bigoted attacks against both athletes, attacks which mirror those for race in sports more than 50 years ago:
Is it really too hard to see the parallels between this and what people said of Jackie Robinson almost 70 years ago?  Jackie Robinson was a singular athlete and singular man, but the slurs hurled against him sprang from the same place as the slurs hurled against Michael Sam.  They are illegitimate views, wrongly-motivated, and used to take equal rights away from the minority.  They led this Court to apply the Constitution properly in the area of race a half-century ago, and they should lead to proper application of the Constitution again today.
The men close by calling for the Supreme Court to declare marriage equality the law of the land:
America has an ideal – exhibited imperfectly in the original Constitution and more perfectly in the Fourteenth Amendment – that all should be treated equally for who they are.  Institution of marriage equality broadly will not solve all our ills, but it's a good place to start, and we Americans are ready for it.  The Court should reverse in these cases, and align them with the decisions of every other court of appeals.
Kluwe, Ayanbadejo, and Fujita are all Ambassadors for Athlete Ally, a leading organization working to end homophobia in sports.  They stand with scores of other athletes to support the mission.
Click here to view the "Athletes' Brief" brief.  Please refer to this event with the hashtag "#AthletesBrief".
Other top athletes, coaches, and executives interested in supporting the Athletes' Brief should contact Fish & Richardson's Dragseth at dragseth@fr.com.  Those interested in supporting Athlete Ally should visit http://www.athleteally.org/ and make the pledge.
Full press release at: http://www.fr.com/news/chris-kluwe-brendon-ayanbadejo-and-scott-fujita-announce-new-athletes-brief-on-marriage-equality-at-supreme-court/
5 years later, it's clear the 2009 Saints were a rare blend of talent, chemistry: Jeff Duncan
By Jeff Duncan, NOLA.com | The Times-Picayune on February 08, 2015 at 10:12 AM
Lost amid the warm and fuzzy nostalgia of the New Orleans Saints' Super Bowl XLIV championship is this oft-overlooked fact:
Those Saints were very, very good. I'd argue they were even great.
They aren't mentioned with the 1985 Bears or 1972 Dolphins but their accomplishments rank with the best teams in NFL history.
The 2009 Saints were one of seven teams in NFL history to start a season 13-0. That covers a span of 95 years.
What's more, they were one of three teams to start a season 13-0 and then go on to win the Super Bowl. Only the undefeated 1972 Miami Dolphins and the 1998 Denver Broncos managed to accomplish the same. Elite company, to say the least.
Moreover, the Saints won nine of their first 11 games by double-digit margins, including five by 20 or more points.  Think about that as you recall the 2014 Saints struggling to dispose of the Tampa Bays of the world.
The 2009 Saints were not the most talented team in NFL history. Not by a long shot. In fact, they might not have been the most talented team in Saints history. For my money, the record-breaking 2011 squad was the best Saints team I've covered. By the end of that season, they were simply dominant.
But no Saints team was more complete than the 2009 champions. They had it all: talent; coaching; experience; intelligence; chemistry; hunger; and hubris. They were dominant on offense, opportunistic on defense and aggressive in all phases.

"We were kind of a combination of all that," said former linebacker Scott Fujita, one of the team captains in 2009.
More than any team before or since, the 2009 Saints maxed out their potential. Buoyed by a city's motivational mojo, they brought it every week.
"We really were a complete team," Fujita said "And we were extremely close. We had a special connection that year. We caught lightning in a bottle."
There are countless memories from that season.
I recall a tangible sense of confidence among the Saints players and coaches during the 2009 offseason.
The Saints flew under the radar entering the season. They'd finished a mediocre 8-8 the previous year and no one gave them much chance to improve upon. Sports Illustrated's Peter King, perhaps the most widely respected NFL writer in the business, picked the Saints to finish no better than 24th in his NFL power rankings. Most of the preseason annuals picked them to finish third in the NFC South.
But the experts failed to account for the terrific offseason additions the club made, starting with famed defensive coordinator Gregg Williams.
Moreover, team officials did a masterful job of making over the defensive backfield. They signed safety Darren Sharper and cornerback Jabari Greer in free agency and selected defensive back Malcolm Jenkins in the first round of the NFL Draft.
The overhauled secondary showed marked improvement from the start and was a major reason why the Saints set a club record with 39 takeaways that season. The Saints returned seven of those takeaways for touchdowns, almost as many as their combined total (9) in the five seasons since then.
"That season we were more obsessed with taking the ball away than any team I've been on," Fujita said. "Guys competed for interceptions and fumbles during walk-throughs at practice that year."
The Saints feasted on inexperienced and first-timer starting quarterbacks on their way to the NFC South Division crown. In their first 10 games of the season, the roster of opposing quarterbacks was: Matthew Stafford (making his first career start); Kevin Kolb; Trent Edwards; Mark Sanchez; Eli Manning; Chad Henne; Matt Ryan; Jake Delhomme; Marc Bulger; and Josh Freeman. Not exactly a murderer's row of quarterbacks.
But the Saints defense proved its mettle in the playoffs when it knocked off three future Hall of Fame quarterbacks: Kurt Warner; Brett Favre; and Peyton Manning.
Combined, the Saints surrendered only two touchdown passes in their games to that trio of superstars. They intercepted them four times and limited them to a combined passer efficiency rating of 78.5, well below their combined career rating of 91.8.
It was an unprecedented trifecta. No NFL team has ever beaten three future Hall of Fame quarterbacks en route to a Super Bowl.
"I don't know whether we belong among the best teams of all-time not but the run we had was special," Fujita said.
Special, indeed. Since then, the Saints haven't played defense anywhere close to the level they reached in 2009. And the further we get from that magical season the more special it feels.
"When we looked around we said, 'Man, we're at least going to do this another time,'" former linebacker Scott Shanle said. "One year goes away and you lose to Seattle in the wild card. The next year, San Francisco beats us on the road and you don't have home-field advantage. So one year goes away, man every year in that NFL window keeps shutting. You don't have much time to get another one. I think with every passing year I appreciate it more and more."
Saints fans undoubtedly feel the same.
Full article at: http://www.nola.com/saints/index.ssf/2015/02/5_years_later_its_clear_the_20.html#comments

The NFL Needs to Rethink Marijuana
Posted:
Super Bowl week brings back fond memories for us. We shed a lot of blood, sweat and tears to earn our Super Bowl rings.
For years, we put our bodies in harm's way in the ultimate team sport, and for many of our NFL colleagues, the physical damage done in pursuit of our dreams is often permanent, and sometimes terribly debilitating.
The NFL is the preeminent sports league in the U.S. but it is woefully behind the curve when it comes to marijuana and players are suffering as a result. Many former and current NFL players use or have used marijuana to treat pain associated with injuries sustained on the field. There is a compelling body of research showing that marijuana can help treat pain and brain injuries.
Roughly a year ago, Commissioner Roger Goodell expressed a willingness to consider the medical use of marijuana for players if medical experts deem it a legitimate option. He said, "We'll continue to follow the medicine… that's something we would never take off the table if we could benefit our players at the end of the day."
It is time for Roger Goodell to make good on that promise. The NFL should lead the way in developing a more rational and science-based approach to marijuana. According to the Drug Policy Alliance, abundant evidence already exists regarding the medical potential and benefits of marijuana. Roughly half of the fifty states (representing nearly half of NFL markets) have legalized the use of marijuana for medical purposes, and over 70 percent of Americans support this reform. It just so happens that this week's Super Bowl is being played in Arizona, a state that allows the use of marijuana for medical purposes.
First and foremost, the NFL should allocate financial resources to advance medical research on the efficacy of medical marijuana in treating brain injuries. In the case of trauma, a lot of inflammation occurs, which affects cognitive functioning and neural connectivity. A compound in marijuana called cannabidiol (CBD) has shown scientific potential to be an antioxidant and neuroprotectant for the brain. In a sport where closed head injuries are common, the league should be doing everything it can to help keep their players healthy during and after their careers. If the NFL wants to continue to grow its game, it must investigate potential medical solutions for its industrial disease, Chronic Traumatic Encephalopathy (CTE). Even the federal government holds a patent on marijuana for this purpose.
Second, the NFL should abandon its policy of drug testing and punishing players for use of marijuana. The NHL does not include marijuana among its banned substances and, just this month, the NCAA announced that it plans to re-examine its approach to drug testing student-athletes for non-performance enhancing drugs like marijuana because "they do not provide a competitive advantage." The HBO show "Real Sports with Bryant Gumbel" reported that 50-60 percent of players currently use marijuana regularly, mostly for pain relief. Solid evidence already indicates that such use can reduce reliance on opiate-based pain medications as well as anti-inflammatory drugs, many of which present pernicious side effects.
Finally, the NFL should take a leadership role in addressing racial disparities in marijuana law enforcement as well as other injustices caused by ineffective prohibitionist policies. Many players enjoy the use of marijuana apart from its medical benefits, just as tens of millions of other Americans do. A majority of Americans now favor regulating and taxing marijuana, more or less like alcohol, and four states have approved such policies, with more likely to do so in coming years. According to the ACLU, African Americans are far more likely than other Americans to be arrested for marijuana possession even though they are no more likely to use or possess marijuana. This basic injustice should be of particular concern to the NFL given that more than two-thirds of all current players are African American.
As former NFL players, we recognize our role as leaders and role models. We firmly believe that reforming marijuana policies can, indeed must, go hand in hand with discouraging young people from using marijuana and other drugs. There is no place any longer, either in the NFL or the nation at large, for the injustices and hypocrisies of prohibitionist marijuana policies. It's time for the NFL to be a leader and create a rational and science-based marijuana policy.
Marvin Washington is a retired 11-year NFL veteran, a Super Bowl XXXIII champion and retired players CTE/Concussion advocate. He is currently a spokesman and advisory board member for KannaLife Science, a phyto-medical company.
Brendon Ayanbadejo is a Super Bowl XLVII and equal rights champion and he retired from the NFL after 13 years. Ayanbadejo is currently working for Fox Sports as an analyst/writer and sits on the executive board of Athlete Ally.
Scott Fujita is a retired 11-year NFL veteran and Super Bowl XLIV champion. He currently works as a TV/film consultant, NFL broadcaster and sports writer. Scott is also a big supporter of human rights and other causes.
Full blog at: http://www.huffingtonpost.com/marvin-washington/nfl-marijuana_b_6546478.html

Scott Fujita: Becoming a Champion With Hard Work and a Little Luck
by: Mason Lerner; January 26, 2015
People told Scott Fujita he was crazy. Why would he be the first free agent to join a troubled New Orleans team after Hurricane Katrina devastated the city?
"For me, it was a chance to be a part of something that was much bigger than football," he said. "My wife and I took a leap of faith, and the community took us in and adopted us as one of their own immediately."
The team had a terrible 2005 season in the wake of the storm, and Fujita signed on in 2006. "So there was an immediate connection … as we're trying to rebuild this organization and at the same time the community is trying to rebuild the city."
The now-retired linebacker helped build the team into one that won the championship three years later, signaling a comeback for both the team and the city.
Fujita said he always planned to use football as a springboard toward making the world a better place, and that he thought building a winner in post-hurricane New Orleans would mean more than it would elsewhere.
Since retiring in 2012, Fujita has become a full-time philanthropist. Making the world a better place is his full-time gig.
"There are a lot of organizations I work with philanthropically, one being Team Gleason, which JPMorgan Chase has actually been incredibly supportive of," he said. "It's a foundation named for one of my former teammates and best friends, Steve Gleason, who's living with ALS. I sit on the board of the foundation, and Steve is always cooking up these wacky ideas for us to go out and do."
For instance, Fujita recently carried Gleason to the top of Machu Picchu in Peru to raise awareness for ALS and Team Gleason.
"It probably wasn't the brightest thing in the world, but it was probably one of the coolest things we've ever done," he said.
Fujita says his success is a mix of hard work and luck, such as when an onside kick in the championship game helped New Orleans win after it hit an opposing player.
"He happens to drop it, and we recover. If that doesn't happen, we lose the game. We take advantage of the opportunity, and we win."
Lucky or not, if Fujita hadn't risen to the challenge when New Orleans needed heroes, he wouldn't be making the impact that he is today.
"As a leader, it's recognizing all of these kinds of things," he said. "Recognizing what made you successful. Recognizing the opportunities that are attractive and knowing which ones to take advantage of and which ones to ignore. And also to be in a position to take advantage of luck when it comes your way. I like to think that can parlay that into everything I do for the rest of my life, but it's a skill set I think you develop over a period of time. And for me that was heightened during my experience in New Orleans."
 Mason Lerner is a freelance journalist who has written for ESPN The Magazine, the Houston Chronicle, the Associated Press and the Galveston County Daily News.
Full story at: https://www.chase.com/newsroom/012115-spotlight-on-fujita

Prepping for the Big Game Leaves Pro Athletes Ready for Anything
Lynn Swann, Mark Herzlich and Scott Fujita Reflect on Lessons Learned
By Mason Lerner;  Date: 1/14/15
For Lynn Swann, the preparation for a championship game is much more than being physically ready. With so much on the line, outstanding athletes like Swann need management and leadership skills that enable their success on the playing field and far beyond it.
"Internal competition is as important as the external competition," said Swann, who won four championships while playing football for Pittsburgh during the 1970s. "Great players will make other players better. That's part of the function of leadership. That's part of making your team stronger and better and reaching your goals long term."
Swann, who has since become a broadcaster, business executive and political candidate, says the habits a player forms on the way to a championship can support future success in any endeavor. "It translates across the board," he said."Nothing really has changed that much in all the things that I do, and the boards that I sit on," he said. "It's still a team concept. It's listening. It's being a leader when you need to be a leader."
One management tactic that helps the pros get ready for a big game, according to former linebacker Scott Fujita: Creating a structured routine amid the chaos of a championship event.
"I think the better job you can do as an individual and as a team of keeping on schedule and on routine, the better off you're going to be," said Fujita, who won the 2010 football championship while playing for New Orleans. "There's a whole lot of pomp and circumstance around the actual game. It becomes almost a holiday event. So it's finding the best way possible to minimize distractions. Take care of all the problems that might present themselves before you even go down there."
Mark Herzlich, who went from being an undrafted free agent to being a linebacker in New York on a championship team, said sticking to business as usual should include family and leisure time too.
"One of the things that Coach [Tom] Coughlin and our ownership did a great job of was to make sure our schedule was such that we had time to get to know downtown Indianapolis" where the championship game was held, Herzlich said. "And after practice, we could walk around and get dinner with our teammates and hang out with our families a little bit. But they kept it a normal practice schedule. So we went about our days just like we would have at home."
Swann said that routine can even include details such as the players' shoes. After his team won a championship in 1974, Swann said, shoe companies offered money to players who would wear their shoes when the team returned to the championship game a year later. With many opportunities to make money, some players were planning to wear a different pair of shoes in each quarter.
Their coach, Chuck Knoll, reminded them that they might be trading the endorsement money for a championship. "He told the whole team,'Look, if that's what you want to do, go ahead and do it. But if you're wearing new shoes every quarter, and you're changing into something you haven't worn before, your shoes might not be broken in. You might not be as comfortable. And you might not play as well. But if you just do as you always do, with the money you make as the winning team, you can go out and buy all that stuff that they're offering you,' " Swann said.
After that speech, Swann said, the only sound you could hear was that of shoes dropping in the locker room.
For Fujita, the preparation he did to win a championship ring helped him expand the role he built as a community leader.
"I think anytime you can find a way to make what you do personal, whether it's in football or any walk of life, the better chance you have for success, and the better chance you have to make something that is meaningful and fulfilling," he said.
That's actually why he chose to play in New Orleans, he said. As the first free agent to sign up to play in that city after the devastation of Hurricane Katrina, "Everybody thought I was crazy," Fujita said. The town was still a mess, but he was determined to make a difference and help with the rebuilding.
"It just created a perfect marriage between the two," said Fujita. "And it made everything that much more personal. The stakes were that much higher. We rode that emotional wave" to the 2010 championship.
Mark Herzlich faced daunting challenges before he ever suited up as a pro. He was diagnosed with Ewing's sarcoma, a rare type of bone cancer, between his junior and senior seasons at Boston College. Although he missed the entire 2009 season, he returned to play for the school in 2010 before ultimately landing on the professional championship team.
He uses his platform as a champion to inspire others facing hardships. He wrote a book titled What it Takes about his experience fighting cancer.
"I wasn't handed any silver linings," Herzlich said. "I had to look for little miracles in every day life to give me motivation to move on to the next day. [The book] was about answering all the letters and questions from everyone who had written me and to provide hope to people in any situation in life. Whether it was cancer, whether it was something else, loss of a job or some other sickness, it was to provide that hope."
Whether it's politics, business or helping those in need, these three men say they continue to rely on the lessons they learned as champions.
Swann said that when he gives a speech, he often closes by asking the audience to think about the best four years of their lives.
"I always tell them, for me the best four years of my life have always been the last four years," Swann said, "because if every day you work on getting a little bit better, you will. It doesn't have to be a grand slam. If you hit a single every time, when the bases are loaded, a run will score. If every day we try and get a little bit better, whether it's in your personal life, in your business life or in your community, it doesn't matter, then you'll look back, and the last four years will always be the best four years of your life, and you'll have no regrets."
Read more from our interviews with these champions:
Full article at: https://www.chase.com/news/011515-big-game-perspectives
By Mike Triplett | ESPN.com; August 12, 2014

NFL commissioner Roger Goodell joined the growing list of celebrities and sports stars to accept the "ice bucket challenge" on Tuesday when he doused himself with a bucket of ice-cold water in the name of ALS awareness and fundraising.
Goodell was challenged by former NFL linebacker Scott Fujita, who works closely with former New Orleans Saints teammate Steve Gleason as part of the Team Gleason foundation. Gleason was diagnosed with ALS in 2011 and has since become a world-renowned leader in the efforts to find a cure for the disease and improve the lives of patients with incurable neuromuscular diseases.
"I want to thank Scott Fujita for nominating me for the ALS ice bucket challenge. I'm honored to accept the challenge and make a donation on behalf of Team Gleason," Goodell said in a video clip before challenging Seattle Seahawks coach Pete Carroll and Hall of Famer Michael Strahan to douse themselves next.
The ice bucket challenge has become a viral sensation after it was started by former Boston College baseball player Pete Frates, who has ALS – more commonly known as Lou Gehrig's disease.
Fujita credited Goodell for being such a big sport and delivering "in a big way."
"Roger's always been very supportive of Steve and Team Gleason. I don't know if everyone realizes that," Fujita told ESPN.com in a telephone interview. "He's always reached out to me to ask, 'Hey, how's Steve doing? Is there anything I can do to help out with the foundation?' So that's always been there.
"And then when I got challenged to do the ice bucket challenge a few days ago, I thought, 'I'm gonna challenge Roger. I'm gonna go big with this one.' And I sent him a text over the weekend, and without hesitation he just said, 'I'm in.' So he's just a good sport. I don't think a lot of people get to see that side of him. And obviously he delivered in a big way."
Fujita and Goodell have been adversaries at times, including the Saints' bounty scandal in 2012 and the CBA negotiations in 2011. But they gladly teamed up this time.
"Obviously the commissioner and I have had our disagreements in the past," Fujita said. "But that doesn't mean there aren't a lot of things we can see eye to eye on, and areas where we can work together. And I think a group like Team Gleason and Roger and the NFL working together to find answers for ALS, that's something everybody can agree on."
NFL players like Aaron Rodgers, Andrew Luck, Matt Ryan, Victor Cruz and Julian Edelman, coach Chuck Pagano and owner/executives Jim Irsay and John Mara are among the many others who have taken part in the challenge — along with other sports stars and celebrities, including Justin Timberlake and Martha Stewart. The idea is to either accept the challenge or make a charity donation — or ideally both.
Reportedly, donations have increased substantially to ALS foundations around the globe. Fujita said the response — both financially and just "igniting the conversation" about ALS — has been outstanding for everyone who is working to fight the disease.
"I don't think anyone thinks this disease is incurable," Fujita said. "It's just underfunded, as Steve always says."
Later Tuesday, Saints quarterback Drew Brees also accepted the "ice bucket challenge," posting video of him getting soaked while diving on the ground. Saints coaches Joe Vitt and Rob Ryan also get soaked in the video.
Full story at: http://espn.go.com/nfl/story/_/id/11344295/nfl-commissioner-roger-goodell-quick-accept-ice-bucket-challenge
Surviving chemo and the Spartan Beast at Toro Park have some things in common
By Mark Anderson; Thursday, June 12, 2014
Questions accompany the run-up to events like last weekend's Spartan Beast Race at Toro Park, a cramp-collecting, 13-mile, 28-obstacle odyssey of rope climbing, muddy crawling and tractor-tire flipping.
What will the course be like? How many hills will we have to climb? What new obstacles will they throw down?
Those questions come from participants themselves. (The respective answers include: gleefully cruel; seemingly one each mile; and the "monkey net." For a 30-photo slideshow of the race, check out "A look back at the second annual Spartan Beast obstacle race at Toro Park."
There are others questions, pointed at participants by others. One in particular gets more play than the rest: Why, exactly, are you doing this?
• • •
What a difference a year makes.
Last August, the Spartan's Monterey County debut was a novelty of sorts. The booming Spartan subculture, which circulates workouts and recipes online and races at different, daunting distances, traveled here to take it on, as they do at destinations stretching from South Africa to South Carolina to South Korea. As they brought both competitive chops (a winning time under 2 hours) and goofy costumes (panda hats and Speedos), locals didn't know what to make of it.
A year later, local participation rose dramatically. Former NFL linebacker and Carmel Valley resident Scott Fujita figured he needed an excuse to train, gathering a tribe of weekend warriors for workouts including Laureles Grade uphills, medicine balls and bear crawls across the faux lawn. Surf N Sand owner Ryan Sanchez shed 30 pounds readying for the race, and a few more in four hours doing it. I signed up with an old friend who rarely tires of exercise, Tony Piccuta of Pebble Beach.
A year ago, the Toro course featured a mile-long climb up Barlow Canyon. Since no two courses are ever the same – even on the same terrain – a second year means a peek into the mind of a course designer like Dan Yotive, who has laid out Spartan tracks from Miami to Malibu.
"The sport is evolving a lot," he says. "People get psyched to see some of their favorite obstacles – a lot are building them at home or at their CrossFit gym – and we're always excited to introduce a new obstacle, a steeper hill."
In reversing the 2013 race flow completely, his team moved 50 tons of dirt in seven days and built obstacles with enough lumber to build five houses. He estimated the elevation gain alone to be 4,500 feet – and compared the terrain to what racers face on ski mountains back east. Marking the path – including sketchy goat trails far too steep to run and dusty single-tracks through brush and poison oak – took five full days. Instead of one major climb, there are three.
"At Toro, I like to stand on top of the tallest hill," he says. "You can see the entire course map, drawn out by people – people out there pushing it, through heat, hills, obstacles – and try to imagine what they're going through."
• • •
A year ago, Piccuta, 37, was doing one of two things: Sitting in the hospital or getting ready to go in.
Six months later, in October, he attempted a Spartan Beast along a desolate and deflating course Yotive designed on the outskirts of Sacramento.
Before the race, the questions came. His new wife Erika did the asking. How are you feeling? You sure you want to do this? She also added a question that was more of a command: Don't die, OK?!
She had cause to be concerned: Chemo had recently cleared of him of non-Hodgkin's B cell lymphoma, but it had robbed him of his hair and much of his stamina.
The race waiver didn't ease anxiety.
"The risk of injury and/or death from the Spartan Race is significant," it reads, "including but not limited to the following: (i) drowning; (ii) near-drowning; (iii) sprains; (iv) strains; (v) fractures; (vi) heat and cold injuries; (vii) over-use syndrome; (viii) injuries involving vehicles; (ix) animal bites and/or stings; (x) contact with poisonous plants; (xi) accidents involving, but not limited to paddling, climbing, biking, hiking, snow shoeing, travel by boat, truck or car; (xii) heart attack and (xiii) the potential for permanent paralysis and/or death."
"THE SCARIEST THING IS WHEN YOU DON'T KNOW WHAT IT IS."
Ultimately, the burpees  – a combination of a pushup, mountain climber and a jump – bothered Piccuta more than any near-drowning or animal bites. If you fail to, say, leap across a series of eight skinny telephone pole ends buried in the soil, or slip from strangely spaced monkey bars, the penalty is 30 burpees. Piccuta had to do 120 by mile two.
After filling a huge bucket with rocks and carrying it up a hill and back (without putting it on a shoulder or spilling), he couldn't scale a 25-foot rope over another mud pit. "You're gonna let a girl beat you?!" a staffer screamed, pointing at the athlete scooting up the rope to his right.
He dropped into the mud, dragged himself out of the pit, did 30 more burpees and walked to the next obstacle.
He picked up the spear and threw it at the stack of hay bales. It smacked the target sideways and fell. Thirty more burpees. He was up to 180.
Nine miles of pasture and pain remained. But he had nothing left.
• • •
A half year later, before the Toro race, I had my own questions for Piccuta. One was about his unchosen obstacle. "The scariest thing about cancer – undoubtedly – is when don't know what it is," he replied. "You don't know the prognosis. You just know you could die."
There aren't many ways to prepare for uncertainty like that. Last year, a Spartan organizer hinted at one.
"The fear of the unknown is a powerful fear," spokesperson Carrie Adams said. "We don't release the course map. We don't even say how long it is. People have to think, 'I'm just going to the start line. I have to finish.'"
Next question for Piccuta: What happened in Sacramento?
"I completely underestimated just how difficult the race would be for me," he said. My mind climbed way back to the ceiling of his childhood bedroom, where a computer print-out blared, "FAILING TO PREPARE IS PREPARING TO FAIL."
Last question: Why, exactly, are you doing this?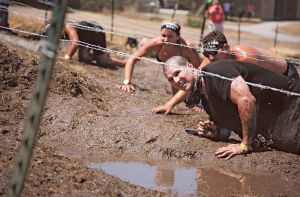 "You should try to push yourself as much as you can all the time," he said. "In a lifetime where you didn't do those things, where you haven't pushed, you haven't lived a full life."
I could almost hear Spartan founder Joe DeSena. "Deep down inside," he says, "people need to be tested, pushed, to achieve a feeling of accomplishment and, ultimately, greatness."
Yotive sees survivors each race. "They've faced down death," he says. "They say, 'I want to live.'"
On Saturday, we lived through the heat and the dust and trails where a misstep meant certain injury. In the first 20 minutes we heard over an official's radio a man separated his shoulder falling off a wall. We dove downhill to the maze of challenges – "Hercules hoist," quarter-mile "sandbag carry" and "tire drag" among them – then back up to more walls and barbed wire and firehoses to the face.
By the time Piccuta emerged from the final gauntlet and finished, his smile hinted at how many penalty burpees he had to do over a long morning: zero.
He didn't plan on that, but he did strive for it. And while he didn't do any of the "I am a Spartan" shouting at the start, he emerged a Beast in the end.
No question about it.
For more on the SPARTAN RACE SERIES, visit www.spartanrace.com
Full article at: http://www.montereycountyweekly.com/etc/outside/surviving-chemo-and-the-spartan-beast-at-toro-park-have/article_23798f1a-f1c9-11e3-9c30-0017a43b2370.html